Customer: The Bank of New York
Location: Canary Wharf, London
Contractor: BW Interiors

Komfort Products:
*Polar Single Glazed,
**Polar Double Glazed,
SwitchGlass
*For our new, enhanced single glazed system please see Polar 35
** For our new, enhanced double glazed system please see Polar 101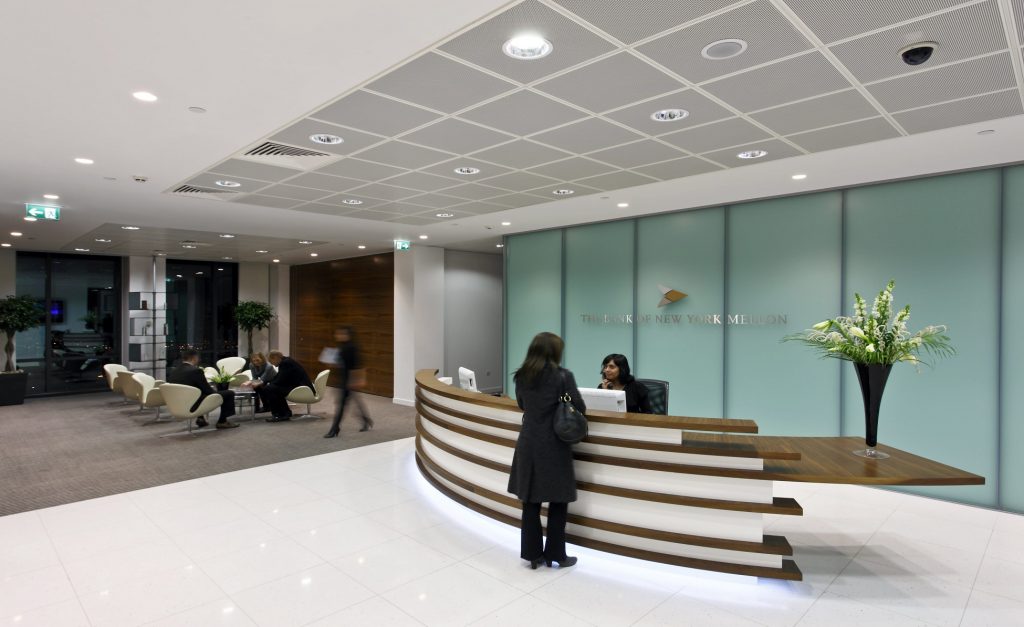 The Bank of New York Project
Background
The world's largest securities servicing and asset management firm was created when The Bank of New York and Mellon Financial Corporation merged. There were two main issues facing the newly formed BNY Mellon and its estates management. Firstly the two existing brands had to be combined and secondly, the banks personality needed to be recognised across all of its sites.
The Building
The speed of growth and the resultant acquisition of space had meant that there was little uniformity both in the working environment and the appearance of the bank's public areas to its clients.
The Brief in Brief
BNY Mellon appointed BDG workfutures to work closely with its Estates and Marketing Departments to establish a consistency in style and culture across the new organisation.
Komfort's Solution
When it came to refurbishing One Canada Square in the heart of Canary Wharf, Komfort was chosen as the preferred supplier of partitions. The Polar glazed systems were deemed to be modern and chic whilst allowing for collaborative working.
Double glazed Polar was selected as the backdrop to the stunning and bright reception area.
Komfort's SwitchGlass EC film was applied to Polar, on the sidewall of the seminar area, with the advantage that, when needed, this room could become private at the flick of a switch.
Single glazed Polar was also installed to delineate a break out area for informal meetings and relaxation. Komfort's Blinds and Graphics division also supplied the striking graphics depicting the beauty and intricacies of a dandelion.
The end result
Specialist contractor BW Interiors carried out the fit out. The success of the Canary Wharf project meant that Komfort's single glazed Polar was also specified for BNY Mellon's subsequent scheme in Manchester.
Komfort Products Used
Please note that Polar 35 is our new, enhanced single glazed frameless system and Polar 101 is our enhanced double glazed system
Members and Accreditations