Client: Oxford District Services (ODS)
Architect: Stanhope Wilkinson Associates chartered Architects (SWA)
Location: Oxford
Komfort Products:
Stainless Steel Handrail and Balustrades system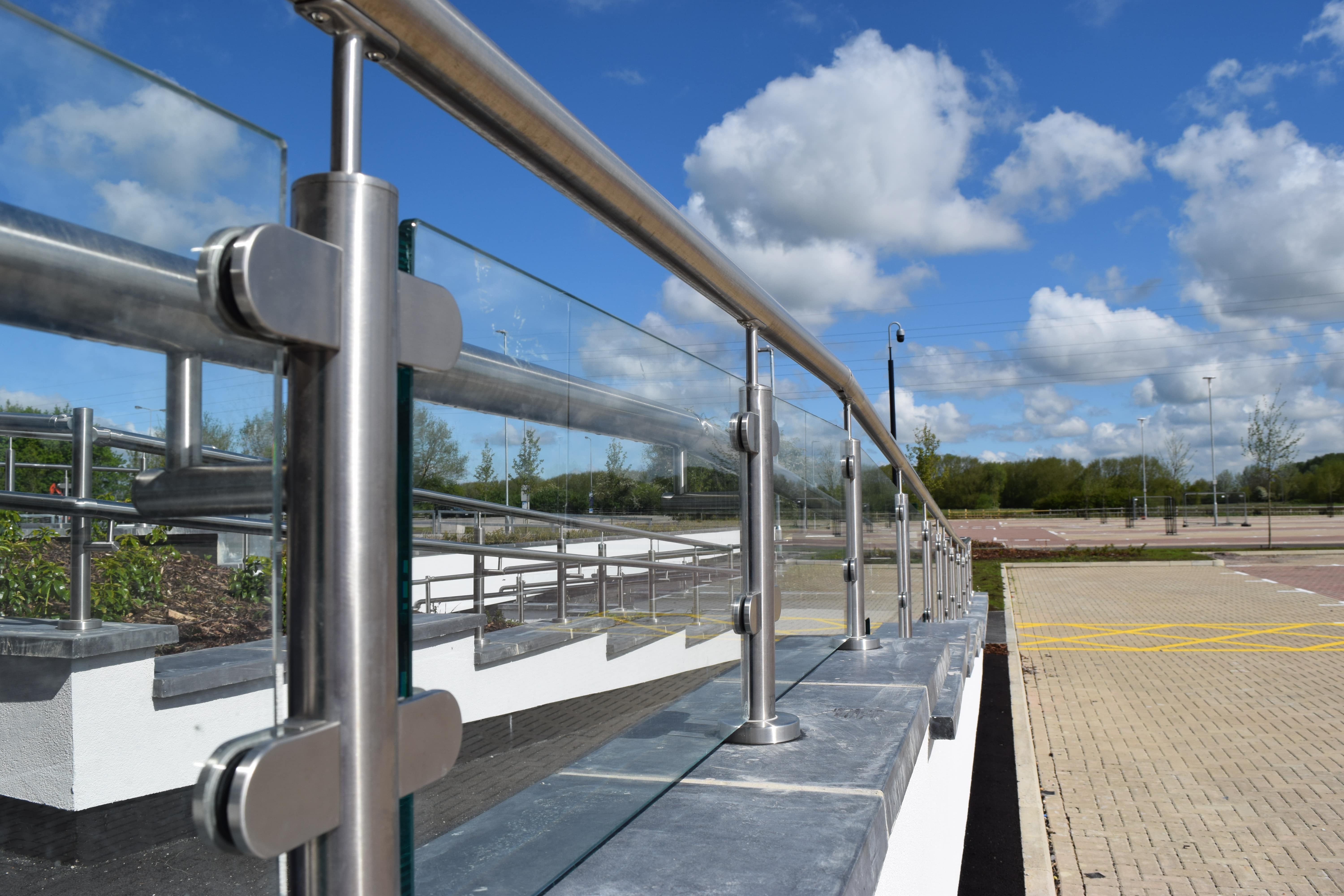 Background and location
Working closely with the architect, Komfort's Handrail and Balustrades division has successfully completed works for the Seacourt Park and Ride extension.
This extension sees an additional 595 parking spaces and two external ramped and stepped areas. The works were carried out to relieve the congestion on the busy nearby road.
The Brief in Brief
Both the architect and Oxford council wanted to reduce the number of cars and emissions and pollution in the city centre. With a brief for high-quality and fully compliant balustrading systems, Komfort was approached to support the design, manufacture, and installation of a stainless steel system. This connected the large car park with the main waiting area.
In early conversations with the architect, Komfort advised that the ramps and steps on-site would need to feature fully glazed balustrades, floor mounted balustrades with no infills, wall-mounted handrails and dual height floor mounted balustrades.
The brief leaned towards a more premium offering to encourage public transport instead of the use of visitors own private cars.
Komfort's Solution
The architect approached Komfort to specify the correct material choice and design to meet the brief in quality, compliance and usability. Our involvement in the very early stages allowed our team to take a hands-on approach and work very closely with the architect.
In line with the complex project requirements and the architect's vision, Komfort designed, manufactured, and installed 48.3mm brushed stainless steel, external grade 316 handrail and balustrading system. This featured extended concrete fixings to achieve 0.74kn loading. Wall-mounted handrails and secondary offset child/wheelchair user handrails are also featured, as were 10mm clear glass infill panels, toughened to BSEN121-50 with flat polished edges and radiused corners.
Komfort provided a handrail and balustrading system suitable for everyone, meaning a wheelchair user can be assisted at all times. The handrails are a graspable diameter (fully compliant) and the ramp itself is wide enough to ensure up and down traffic flow is possible. Within the topic of compliance, custom offset bracketry was provided to the stepped area, ensuring there is sufficient room for the fingers (no finger trap) at all times.
The end result
Our involvement at the earliest stage enabled Komfort to design and deliver a system that met the brief, was designed around usability and was fully compliant. With the quality of the system, it will withstand daily high traffic for many years to come.
Despite the disruption during the course of the project with Brexit, flooding and COVID, everyone involved is delighted with the high-quality finish of the project, and it was great for the Komfort Handrail and Balustrade division to be an integral part of the project.
Contact Our Balustrades Team
If you have any questions regarding design or specification support for our handrails and balustrade systems, please contact our expert team who will be happy to support you.