Komfort has a continued commitment to providing specialised solutions to meet the most stringent fire and safety regulations for commercial and industrial buildings. Our fire rated glass partitions and fire screens enable designers and installers to maximise the potential of a space while still adhering to all fire safety regulations.
Fire Rated Glass Partition Systems and Fire Screens
We offer both Polar Single Glazed and Polar Double Glazed fire rated partitioning achieving up to 30/30 fire rating for the glass. Alongside this, we also offer our enhanced E & EI Defence Glass Fire Screens which can provide up to 120 minutes of protection (also referred to as 2-hour fire rated partitioning). All of these are known as passive fire protection, which helps prevent the spread of fire through a building and aid evacuation. This means it is able to continue functioning as it was designed when exposed to fire.
Our fire rated glass partitioning and glass fire screens meet very high standards of fire safety but also offers a flexible design solution for dividing a workspace or public area. All our systems are designed to the highest specification and fully tested and accredited as fire-resistant. Additionally, Komfort's Defence fire doors have been smoke tested, meeting the classification requirements of Sa (room temperature smoke protection) or S200 (hot smoke protection).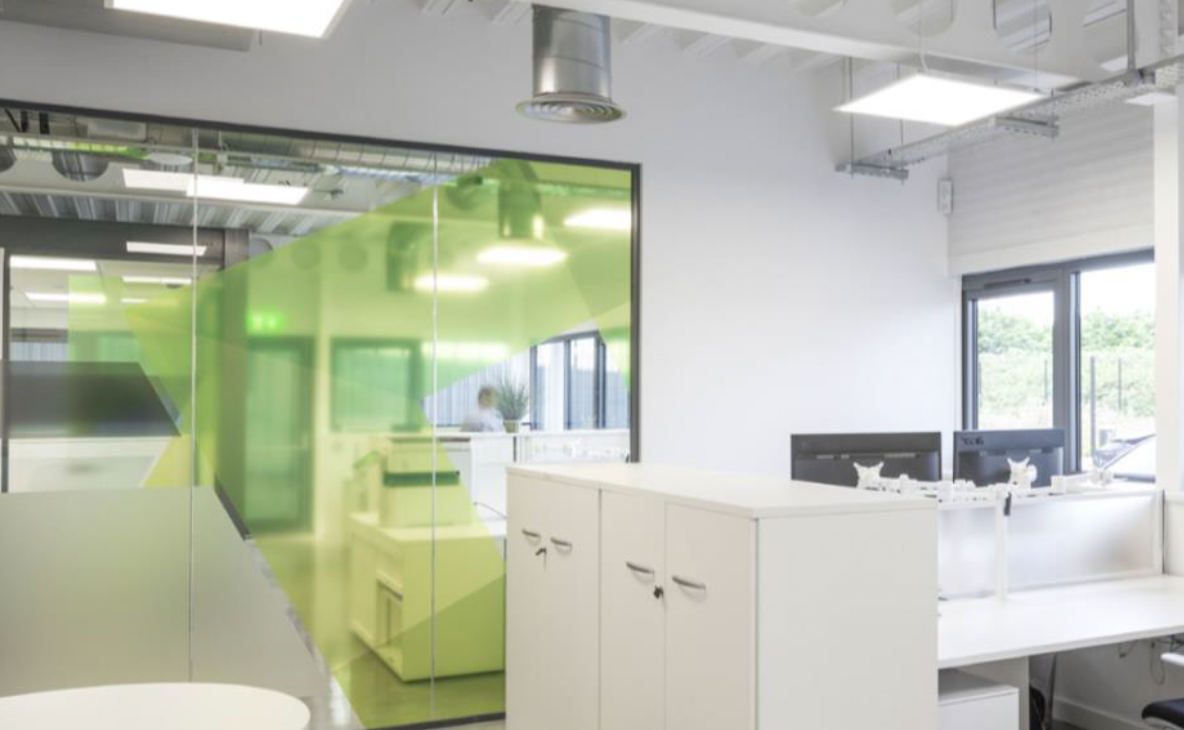 Polar 35 Single Glazed Fire Rated Partitioning
Achieves up to 30/30 fire rating and acoustics ratings up to 39dB (Rw) within slimline trackwork.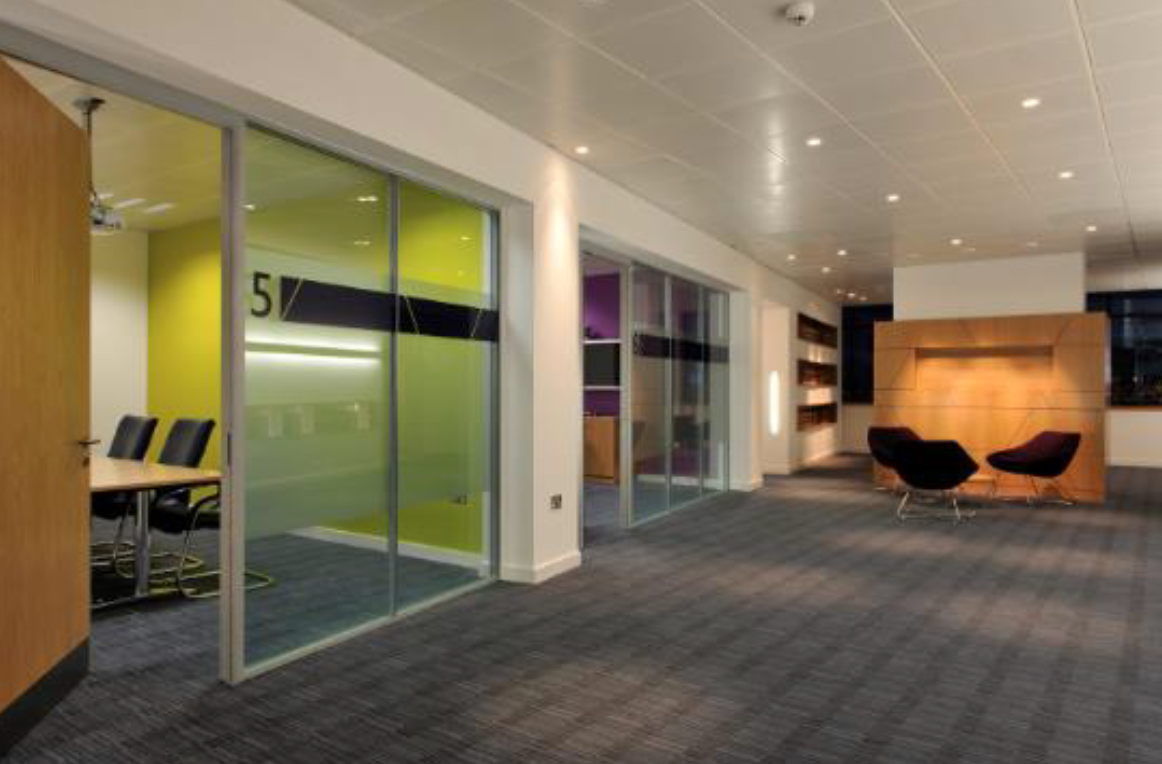 Polar 101 Double Glazed Fire Rated Partitioning
Achieves up to 30/30 fire rating and enhanced acoustics ratings up to 51dB (Rw) to meet the demands of the modern workspace.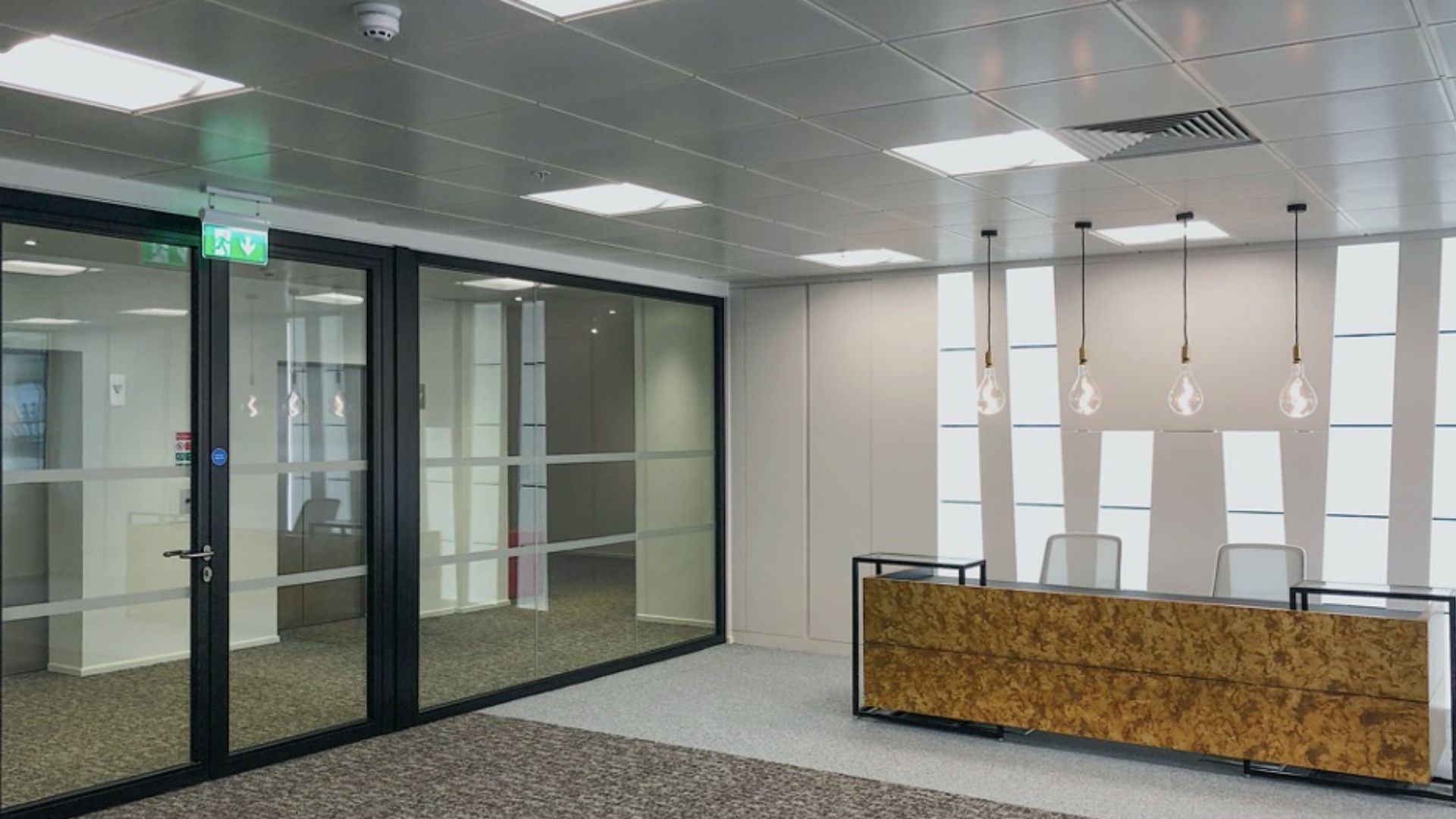 Defence E Fire Screen
Integrity performance only, achieving a fire rating from 30-60 minutes. These systems work to prevent the passage of fire, including flames and flammable gases.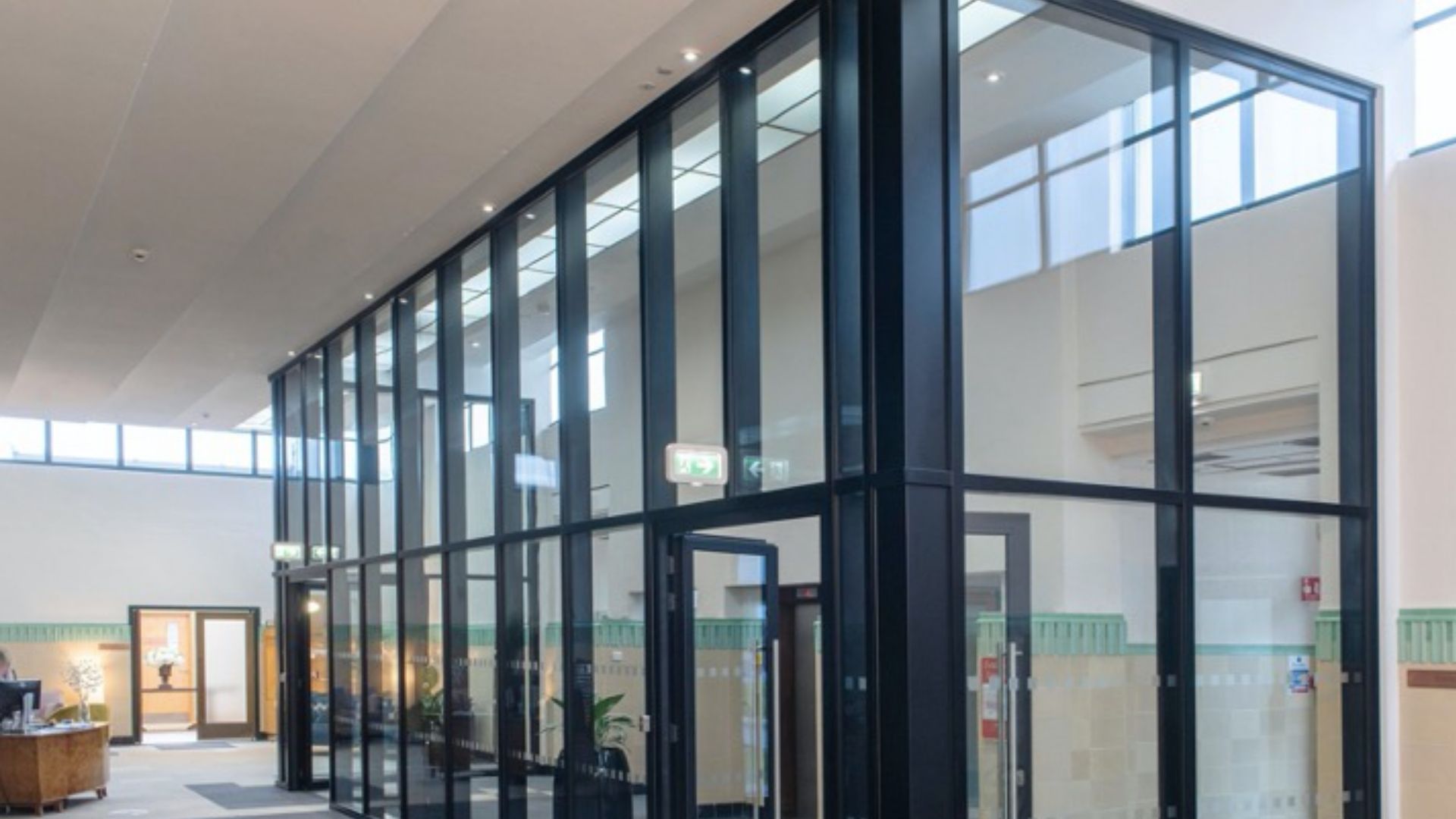 Defence EI Fire Screen
Integrity and insulation performance, achieving a fire rating from 30-120 minutes. Work to prevents the passage of fire including flames and flammable gases, and also heat.
Defence E and EI Glass Fire Screens
Within a steel structure, Komfort's Glass Fire Screens offer up to 120 minutes of protection and can be fitted along with our doors and glass partitions. These will fit seamlessly into your design while subtly offering protection against fire.
Komfort's Defence E Fire Screens offer integrity performance only. These systems work to prevent the passage of fire, including flames and flammable gases, but not heat. They offer fire ratings from 30 minutes to 60 minutes, alongside acoustic and structural performance.
Komfort's Defence EI Fire Screens offer integrity and insulation performance. Meaning these systems work to prevent flames and flammable gases as well as the transference of heat to the protected side. These systems work to meet the highest level of fire protection, offering ratings from 30 minutes to 120 minutes with high acoustic and structural performance.
Fire Rated Glass Partitions
Komfort can design and manufacture fire rated glass partitioning that can remain intact against fire, achieving a fire rating of up to 30/30 for the screen glass. These are manufactured within an aluminium frame and provide high acoustic performance.
Single and Double Glazed –Frameless Fire Rated Partitions
Our Polar 35FR single glazed partitioning offers a fire rating of up to 30/30 for screen glass. This means this partitioning maintains integrity for 30 minutes against fire, it will stop smoke and fire from entering that part of the building. The second 30 refers to insulation against the heat generated during a fire and how it can keep that at bay for 30 minutes.
Our Polar 101FR double glazed partitioning looks stunning and brings added durability with it, enhanced line loading and higher acoustic performance. Polar double also offers 30/30 fire protection for the screen glass and is also available up to 3000mm height.
Our fire rated partitioning and screens are compatible with blinds, manifestations and Kross Glaze.
Komfort also offer a range of solid and glazed, framed fire rated partitioning systems. This includes Komfire 75 and 100, as well as Kameo 75. This can reach notable heights, high acoustic performance as well as impressive fire performance. Read more about our framed fire rated systems here.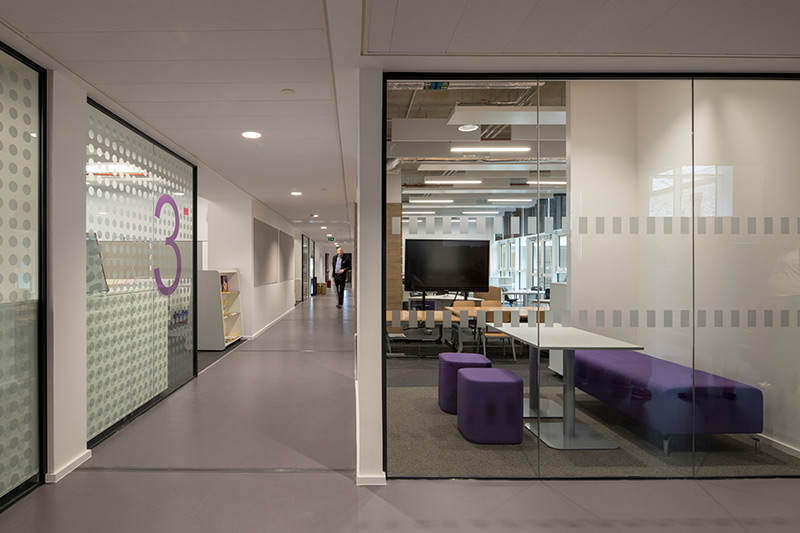 Fire Ratings – Explained
Fire protection is a critical part of any type of building and interior design, especially in a commercial setting. Fire ratings are used for many different things including doors and non-load bearing elements like glass partitions. The rating is normally shown as two numbers with a / in-between as mention above.
Essentially the first number is a number showing the integrity and the second is insulation. As mentioned above the first is showing how long fire can be held back and the second is how long the effects of the fire can be held back. With testing, integrity is recognised by using the letter 'E' and insulation is denoted with the symbol 'I'.
Different ratings are used in different applications from offices to shopping centres and more. If you would like to discuss fire ratings and what you may need for your project then please get in touch with our experienced team.
Where are fire-rated partitions required?
When designing buildings, it is very important to think about fire safety. Always design with compartmentation in mind.  Compartmentation is the act of subdividing a building into smaller compartments using fire-resistant materials (such as fire-rated partitions) in order to control/slow the spread of fire and create more manageable areas of risk.
Key areas for compartmentation are reception areas, corridors, staircases, common areas and escape routes.  However, it is important to know that your design will depend on the level of fire safety you require – for example, if you only have 1 escape route, you may need fire rated partitioning which provides 2 hours of fire protection, whereas if you have 2, you may only need 30 mins or an hour.
Where fire-rated partitions are required will also depend on building type, its size and its height which will have different measures and standards. For example Approved Doc B Volume 1 refers to dwellings, whereas volume 2 refers to commercial buildings and more. Standards for each individual building are laid down by Building Control.
What are fire-rated partitions designed to do?
Essentially fire-rated partitions are designed to keep people safe. They provide protection against fire which enables people to escape the building in the event of a fire, but also enable enough time for the fire brigade to re-enter the building. Fire-rated partitions and other systems are also installed to avoid the spread of fire to keep the building itself safe. Buildings are very expensive, and the cost of a fire to a business can be very costly.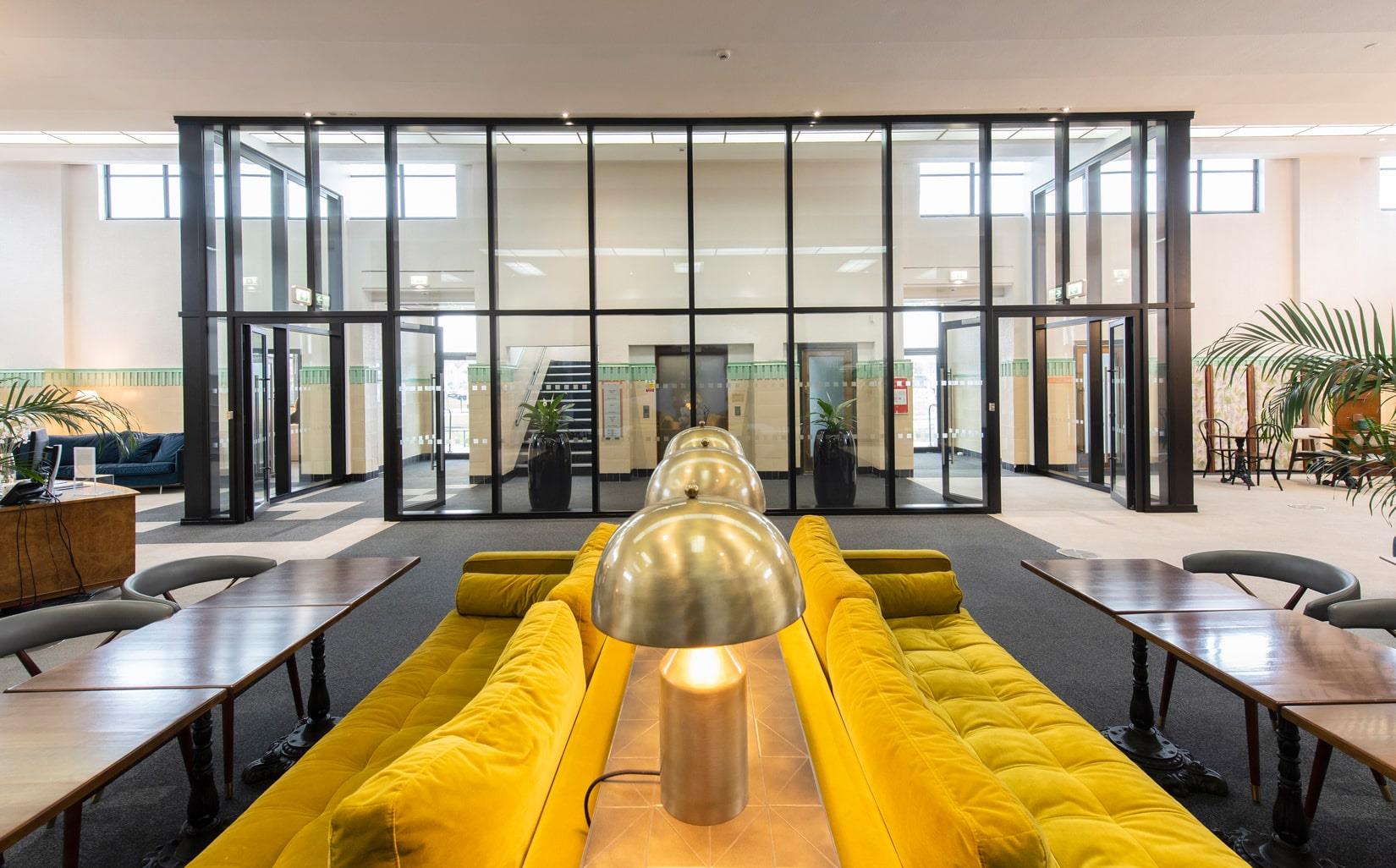 Fire Rated Partitioning & Screens Case Study
The brief for this project was to deliver very high levels of fire safety. With the intent of meeting performance requirements, Komfort's glazed Defence E and EI Fire Screens were installed in the reception area. Komfort's technical and project management teams worked closely with the design team to provide a solution to fully glaze the reception area from floor to ceiling.
Our specialist internal glazing and firescreens provide a fire rating of up to 2 hours, along with sound and structural performance.