At Komfort, acoustic performance is a key element in the design and manufacture process of our acoustic glass partition systems. We produce a range of acoustic partition products that are at the cutting edge of both design and performance. We continually train to ensure we are ahead of the latest developments which is echoed throughout our business from our technical and research team right through to our sales team. Our team of experts deliver effective and noise reducing acoustic glass and solid partitions on every project.
We all know that controlling sound in busy working environments is important for a number of reasons, with privacy, wellbeing, and productivity levels key. Following this, acoustics have played a central focus in recent office interiors for architects and designers, but you don't have to soundproof the entire office. Acoustic partition systems provide privacy for phone calls and meeting rooms are perfect for open-plan offices. Often referred to as soundproof partitions our acoustic systems not only look stunning they also work very hard to keep sound in or out as well as some of them being fire rated too.
Acoustic Partitioning Performance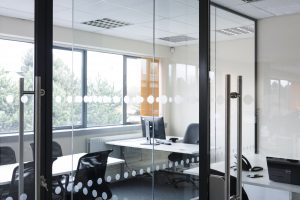 All of our partitioning systems are acoustically rated and accredited by UKAS. Our acoustic partitions provide excellent sound insulation without taking up unnecessary room; suitable for a range of office spaces and communal working rooms. Reduce the transmission of noise across your office building and create new privacy space using acoustic partitions.
Our brand new frameless range offers leading acoustic ratings. Our single glazed Polar 35 system achieves up to 41dB(Rw), and our double glazed Polar 101 system achieves up to 54dB(Rw). As well as this our Polar 54 which achieves up to 47 dB(Rw) with a slimline double glazed option. Our Polar Kreate bi-block relocatable system with steel panels achieves up to 45 dB(Rw). Read more about our acoustics on frameless partitioning page.
For our acoustic framed partitioning systems, our Kross Glaze 600 system achieves up to 41 dB(Rw).
Acoustic Partition Ratings
The different levels of acoustic partition ratings meet different requirements, with the acoustic screens available in both single and double glazed and available with or without a frame. From the Polar 30 Single Glazed to the Komfire 75, our expert team can install the perfect acoustic partitioning for your commercial office space.
The Importance of Acoustics
While it may seem obvious that loud noises and general high volumes of background noise would make for a bad work space there is a lot more to it. The acoustics of a work space can have a serious impact on a number of aspects of working life and we take these very seriously.
Acoustics and Well Being
It goes with out saying a very loud noise while you are working is going to put you off what you are doing. But bad acoustics can actually affect the broader well being of staff in a work space. The term acoustics doesn't just refer to loud noises in the sense of a drill or loud bang, for example. It can be about general white noise coming from a lot of people talking, that in a badly designed space, can magnify and become a constant background noise. These chronic, sometimes, low level noises can affect mental health, productivity and, on a simple level, just general happiness and positivity in a work place. Without being able to specifically identify it powerful background acoustic issues can make working very hard, cause head aches, frustration and a lack of creativity. of course, absolute silence is not ideal for most people either! It is a key part of any acoustic design to have some noise to feel part of being at work but to make it noise that doesn't cause any negative effects. Our systems are designed to work alongside wider office design or to help mitigate older designs that may have failed to take acoustics into consideration.
Keeping Noise In and Out
In some cases noise needs to be kept in a space, for example, a meeting room in a larger open plan office space may be a place where people get creative and shout ideas out during a discovery session. This should be a free space where people can express themselves but that won't work if the people working nearby get disturbed. The same goes for a meeting room where private matters are discussed, it certainly can't be a space where everything is heard outside. Our acoustic systems allow you to create private spaces that are acoustically insulated but that also allow light in and keep the open plan feel of a space where needed.
There are other times in a workplace where quiet is needed in a certain space and the noise outside must be kept as such. A large call centre is a good example of a noisy space that needs to be filled with chatter and sound. However, a managers office may need to be a quiet space within this louder workplace and a glass acoustic partitioning system will allow that.
Our highly skilled team are hear to fulfil your exact requirements or to help you design the right space for your business.
Your FAQs – Frequently Asked Questions about Acoustics in Partitioning
Get In Touch
Take a look at the different types of acoustic partitions available in our range today and get in touch with a member of our team if you have any questions or want to know more information about any of our products.
Komfort Products with Acoustic Ratings