At Komfort, acoustic performance is a key element in the design and manufacture process of our acoustic glass partition systems. We produce a range of acoustic partition products that are at the cutting edge of both design and performance. We continually train to ensure we are ahead of the latest developments which is echoed throughout our business from our technical and research team right through to our sales team. Our team of experts deliver effective and noise reducing acoustic glass and solid partitions on every project.
We all know that controlling sound in busy working environments is important for a number of reasons, with privacy, wellbeing, and productivity levels key. Following this, acoustics have played a central focus in recent office interiors for architects and designers, but you don't have to soundproof the entire office. Acoustic partition systems provide privacy for phone calls and meeting rooms are perfect for open-plan offices. Often referred to as soundproof partitions our acoustic systems not only look stunning they also work very hard to keep sound in or out as well as some of them being fire rated too.
Acoustic Partitioning Performance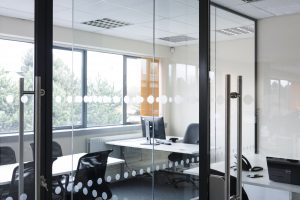 All of our partitioning systems are acoustically rated and accredited by UKAS. Our acoustic partitions provide excellent sound insulation without taking up unnecessary room; suitable for a range of office spaces and communal working rooms. Reduce the transmission of noise across your office building and create new privacy space using acoustic partitions.
Our brand new frameless range offers leading acoustic ratings. Our single glazed Polar 35 system achieves up to 41dB(Rw), and our double glazed Polar 101 system achieves up to 54dB(Rw). As well as this our Polar 54 which achieves up to 47 dB(Rw) with a slimline double glazed option. Our Polar Kreate bi-block relocatable system with steel panels achieves up to 45 dB(Rw). Read more about our acoustics on frameless partitioning page.
For our acoustic framed partitioning systems, our Kross Glaze 600 system achieves up to 41 dB(Rw).
Acoustic Partition Ratings
The different levels of acoustic partition ratings meet different requirements, with the acoustic screens available in both single and double glazed and available with or without a frame. From the Polar 30 Single Glazed to the Komfire 75, our expert team can install the perfect acoustic partitioning for your commercial office space.
Get In Touch
Take a look at the different types of acoustic partitions available in our range today and get in touch with a member of our team if you have any questions or want to know more information about any of our products.