Aston Martin F1 Headquarters in Silverstone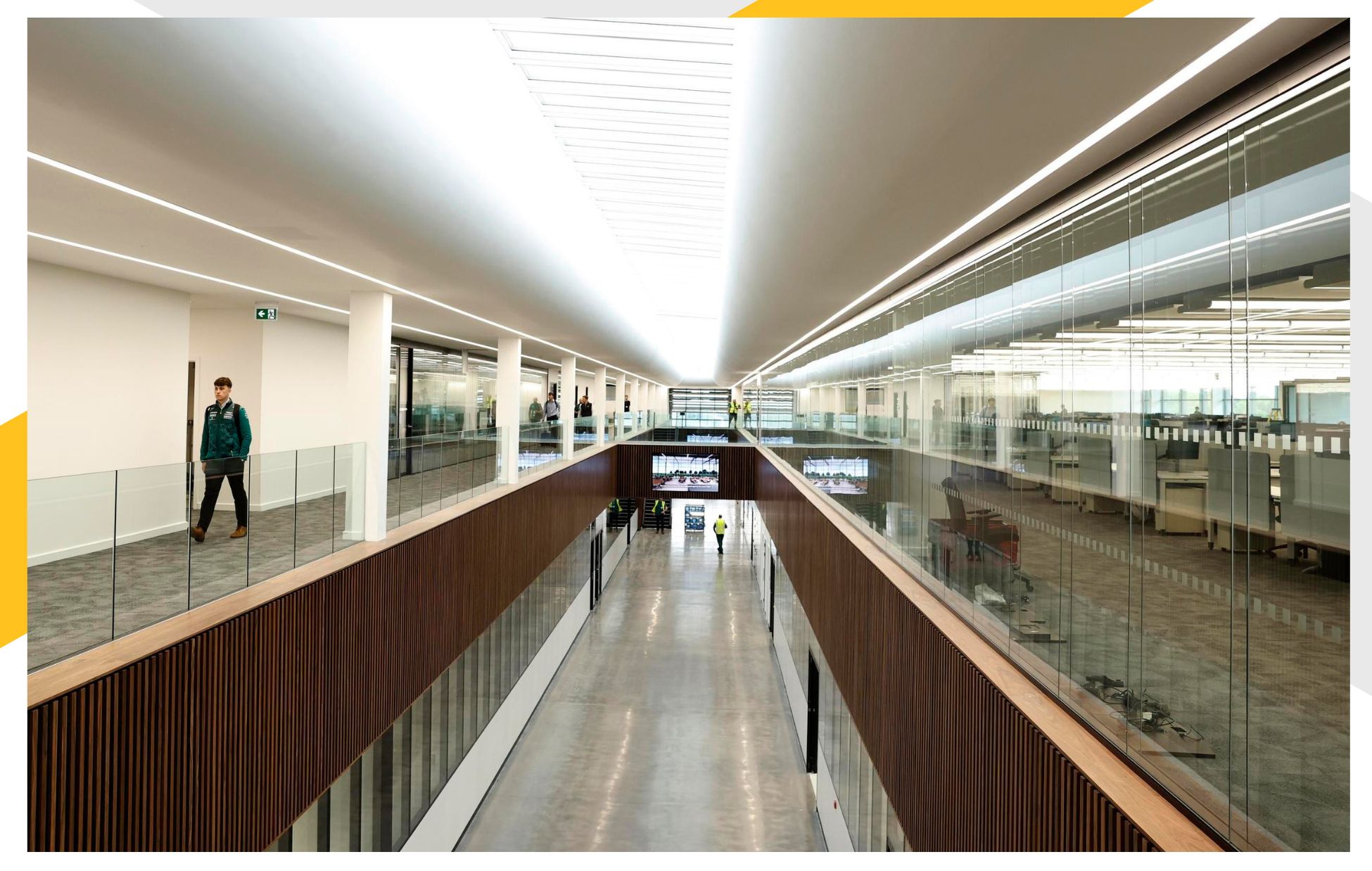 Background & Building
A brand new headquarters for the Aston Martin Racing Formula 1 team, based at Silverstone Race Track. A state of the art building solely designed to build, run and service Aston Martin's Formula 1 racing vehicles. Built by the side of the historic Silverstone Grand Prix racing track in Northamptonshire.
The Brief in Brief
The project requirements demanded good DB ratings, full height doors, privacy for Mission Control with Smart Glass and the Exec area with blinds. An Atrium to flood light into the 'street' below. Plus offices, meeting rooms, a Mission Control racing hub, a large Atrium screen over indoor areas, open plan design offices, breakout and communal areas.
Komfort's Solution
Prior to the start of the project we had numerous pre-start meetings with the design team and H&S visits with our external advisors to ensure the project would run smoothly from the start.
To achieve a system and design the client desired, Komfort built mock-up sample office onsite during the design stage to highlight the design elements such as acoustic double glazed glass in Polar 100 and our deflection head system. We also supplied samples of our blinds, with the system in situ to demonstrate the operating fixtures and fittings. All samples were supplied in the clients choice of colour including matt black blinds to match the trackwork.
The double glazed full length Atrium required teams working on both sides of the glass, installation from the office side and safety (fall arrest) from the street side. The atrium glazing over the machine shop area required glass lifting equipment, to ensure the fire rated glass could be sealed properly from both sides.
The client made numerous changes to the design during installation, which had to be accommodated. The final project involved 800 sqm of glass and 50+ Sonik doors throughout the building site. It was a challenge and one that Komfort rose to admirably.
The end result
Modern open plan offices with a selection of meeting rooms. Large executive offices with blinds/locks for privacy. A large full length atrium from the offices above to the workshops and indoor street below. All areas of the racing team on 1 floor (design office, HR, Exec offices, Mission Control, finance etc).
"With glazed partitioning all along 'The Street' the light is great" Guy Adams, Project Director