Customer: Virgin Active
Location: Aldersgate
Architect: Atelierdb
Komfort Products:
*Polar Single Glazed,
**Polar Double Glazed,
Manifestations,
Glass doors

*For our new, enhanced single glazed system please see Polar 35
** For our new, enhanced double glazed system please see Polar 101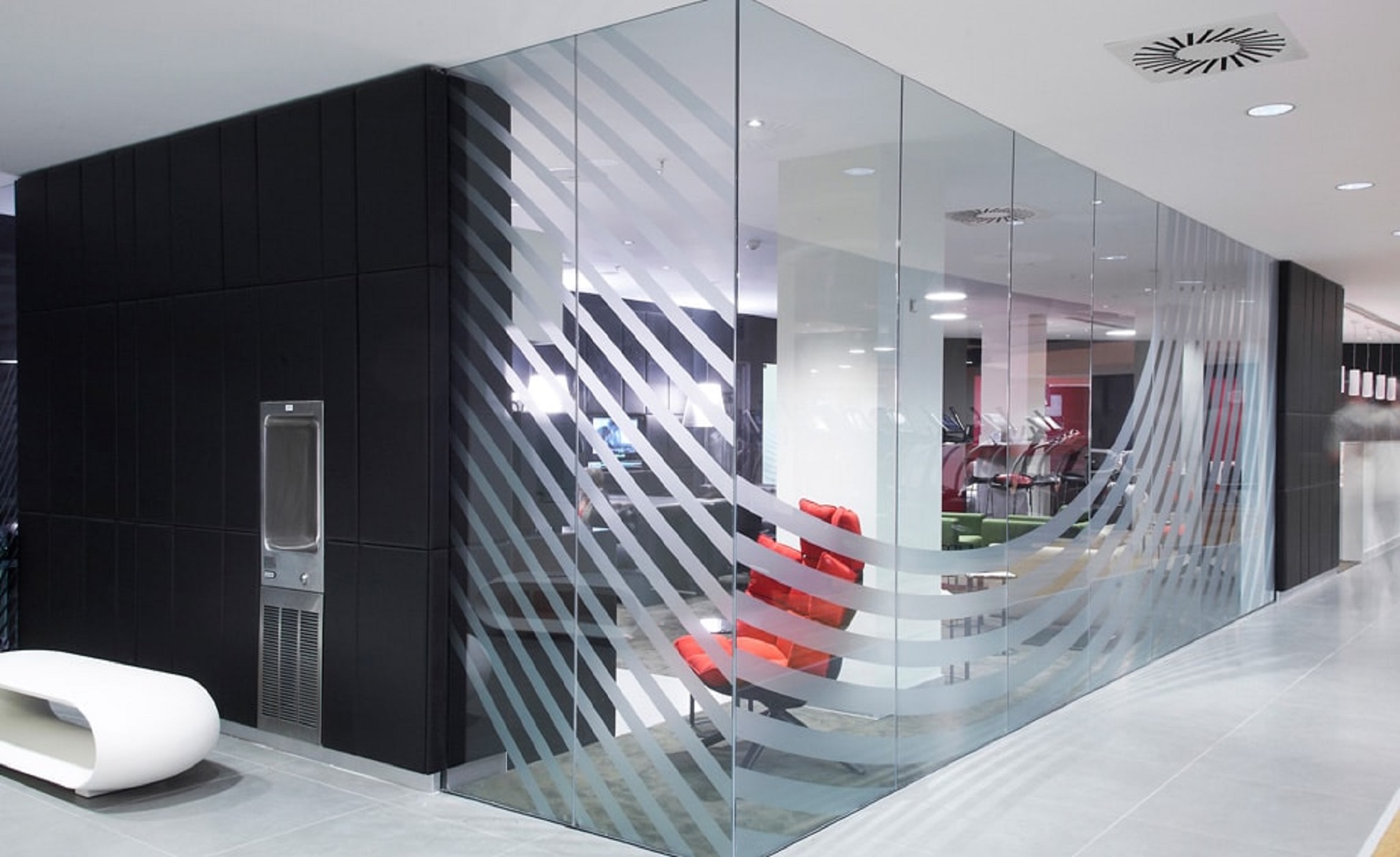 The Virgin Active Project
Background
The creation of a multi-functional space with the need for high fire performance. Whilst allowing light to flow through, the partitioning is helping to create defined areas that are atmospheric yet functional and practical.
The Building
The two projects are a prestigious Virgin Active Health Club at 200 Aldersgate and a Virgin Active support office at 100 Aldersgate.
The Brief in Brief

Both Virgin Active establishments were designed by architects atelierdb. The health club at 200 Aldersgate features luxury social areas, changing facilities, fitness studios, mind/body/anti-gravity Yoga studio, spin studio, gym floor, hydro pool and sauna. There was a requirement to prevent noise crossing between the studios.
Komfort's Solution
Virgin Active required a high level of acoustic separation so 35m² of Komfort's double-glazed Polar was used to deliver a 46dB (Rw) sound reduction. For the social areas and the poolside feature shower areas, sub-contractor, The Projects Company, installed 50m² of single glazed Polar partitioning, allowing light to flow freely through the space while restraining the structure of specific zones. atelierdb also worked with the client to develop manifestations in the form of sweeping curves adding privacy and visual interest while retaining views across key areas to add life and vitality.
Within the support offices at 100 Aldersgate, single-glazed Polar partitioning was installed featuring white manifestation graphics, which have created eye-catching effects while offering privacy for the meeting rooms, individual offices and the training centre. The partitioning also offers a 33dB (Rw) sound reduction. A series of Komfort's glass doors with pull handles were also installed to give a consistency throughout.
The end result
David Bell, Director at atelierdb said of the project: "Creating a health club and support office within the City required high end design and specification. Working with the team we have achieved a truly beautiful health club for members and an inspirational office for the staff at Virgin Active.
Komfort Products Used
Please note that Polar 35 is our new, enhanced single glazed frameless system and Polar 101 is our enhanced double glazed system
Members and Accreditations