From Kickstart to full-time employment – meet Ben!
We would like to introduce you all to Ben Corrigan. We were lucky to have Ben join us through the Kickstart scheme and since working with Komfort, he has demonstrated his enthusiasm and keen attitude to learn. As part of his onboarding, we have asked Ben a few questions to get to know him a little better and understand what he brings to the Komfort team.
Q – So Ben, what is your professional background and experience within the industry?
Ben: I joined Komfort in June 2021 through the Kickstart scheme on a temporary 6-month placement. I have since been offered a full-time permanent role within the business as a Junior Glazier.
Q – What made you want to work with Komfort?
Ben: I have always been interested in the construction industry and the world of interiors. Also, within commercial spaces, glass partitions are more interesting and exciting to me than standard internal partitions, making Komfort the perfect fit.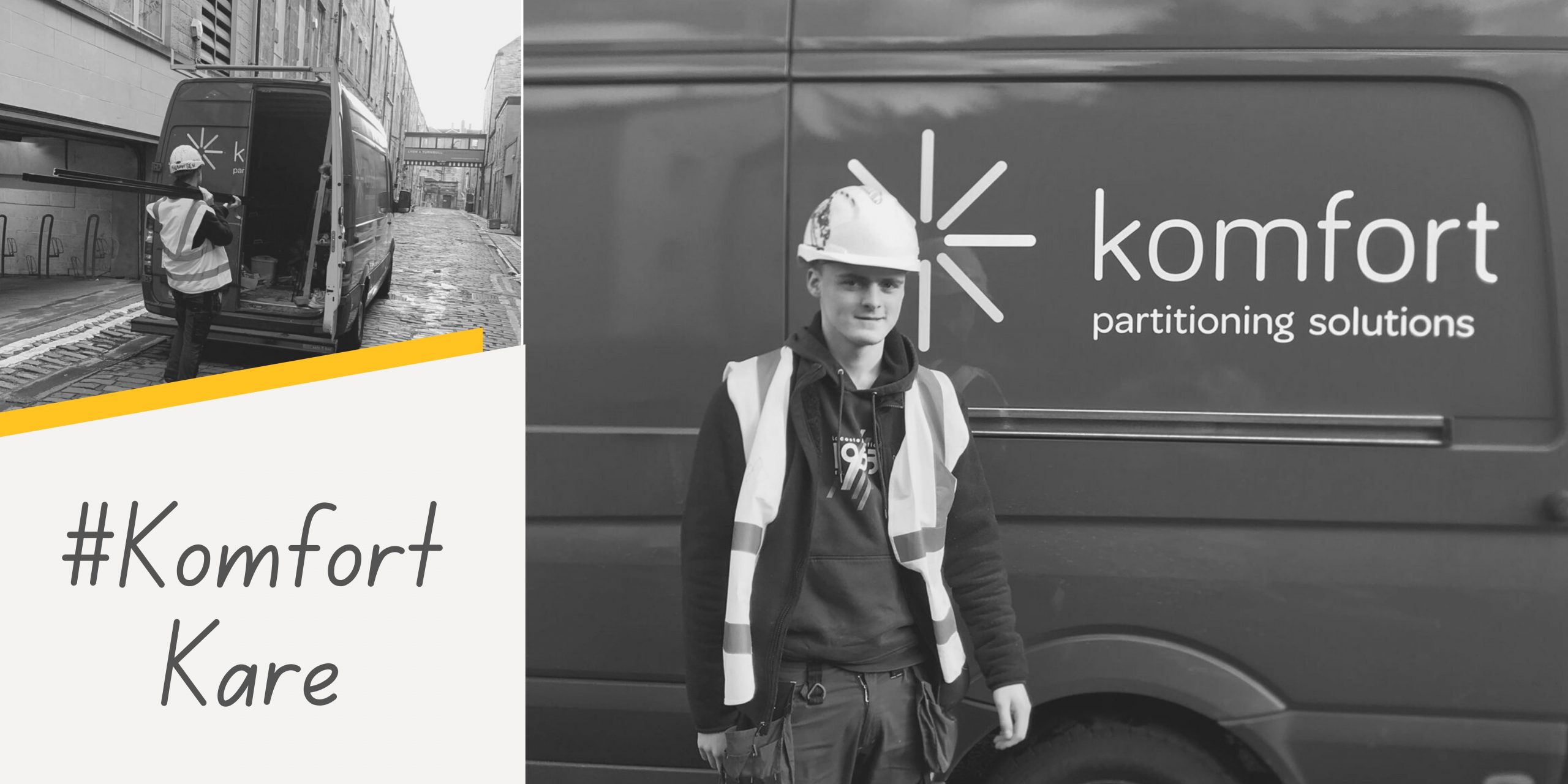 Q – What are your current roles and responsibilities at Komfort? 
Ben: I'm a Junior Glazier based in Scotland; this has given me the opportunity to work alongside some experienced glaziers on construction sites. I assist with the installation of partitioning systems for the customer in line with site plans.
Q – What plans do you have to achieve here at Komfort? How do you see yourself moving forward and how do you feel you can add value?
Ben: It's early days for my career and I am excited by how much I have to learn. I have already developed many skills in the last eight months and I can now successfully fit the track work and am hoping to continue learning to become a fully skilled Glazier, further supporting my peers in Scotland.
Q – Can you name one of your greatest career achievements so far?
Ben: This is certainly being offered a permanent role within the business and being trusted to carry out duties such as track cutting.
Q – Could you tell us a bit about your personality, hobbies, etc?
Ben: I love football and as a Celtic season ticket holder I am lucky enough to go to most games.
Thank you very much for your time Ben! It was great to learn a little more about you and we look forward to continuing to do so. On behalf of all of Komfort, it is a pleasure to have you within our team with a fresh perspective. Best of luck in the new role!