Dublin Airport Authority (DAA)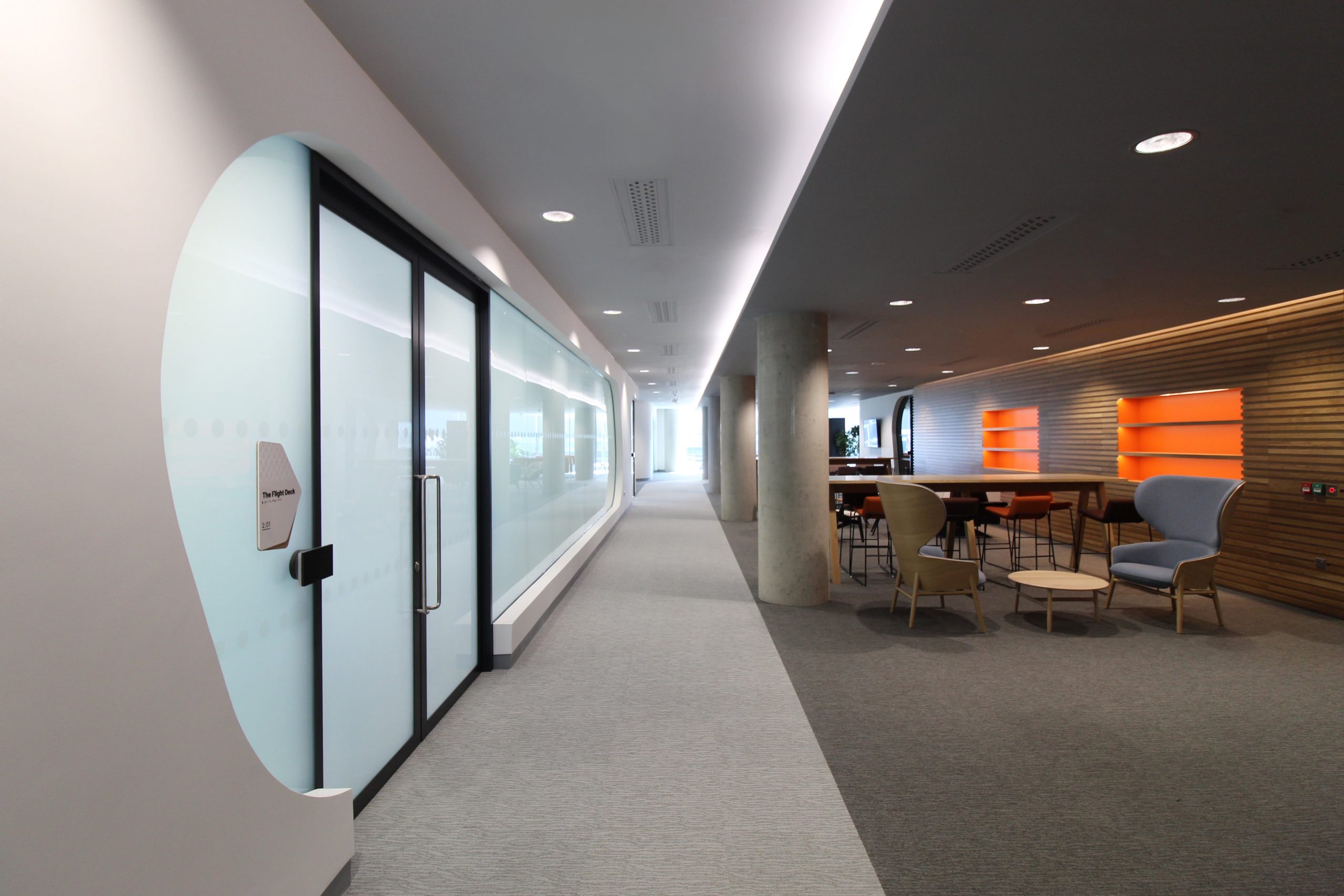 The Dublin Airport Authority (DAA) Project
Background & Building
The Dublin Airport Authority (DAA) is a global airports and travel retail group with businesses in 16 countries. Employing over 4,000 people, their headquarters are located in the heart of Dublin airport, one of the country's best-connected developments.
The Brief in Brief
The DAA new offices have recently undergone a full CAT B fit-out. As per the design brief, the new offices, which span four floors and 43,000 sq/ft have been designed with a dynamic and contemporary look and feel. This includes using unusual angles and curves along with integrated technology such as room booking systems to create a beautiful and functional space.
To accommodate different working styles and activities, the office includes a mixture of cellular and open plan space for which acoustics play a key role.
Komfort's Solution
To achieve the high-performance requirements, specialist contractor Allied Ireland, developed a solution and provided a range of Komfort's new partitioning and door systems which offer market-leading acoustics.
Komfort's Polar 100 double glazed partitioning system achieved acoustic ratings of up to 51dB (Rw) and was installed across the meeting rooms to ensure privacy. This frameless glazed system with its bubble joints and minimal framing creates a high-end aesthetic that maximises natural light.
This system was complemented by Komfort's acoustic Sonik doors, which also achieves a high acoustic rating of up to 40dB (Rw). The striking black aluminium framing of the doors creates an intriguing and contemporary contrast to the white surroundings. The curved walls also add another dimension of interest to the design to help soften the surrounding space.
In today's increasingly demanding workplace, privacy is essential for a host of reasons. This, coupled with intelligent technology being an integral component of any leading commercial space, Komfort's partitioning systems were made compatible with room booking systems for enhanced user experience and Komfort's SwitchGlass.
Allied designs using Komfort's SwitchGlass technology removed the need for blinds. The glass turns from opaque to transparent at the flick of a switch, allowing for instantaneous privacy. This is an efficient, space-saving and innovative way to add privacy to any meeting room.
The end result
It was a pleasure to have our products developed into working solutions by Allied on such a landmark project in Ireland. The project was completed within a 16-week programme and was finished to the highest standard. A collaborative effort resulted in a stunning and functional space.
Dublin Airport Authority (DAA) Gallery