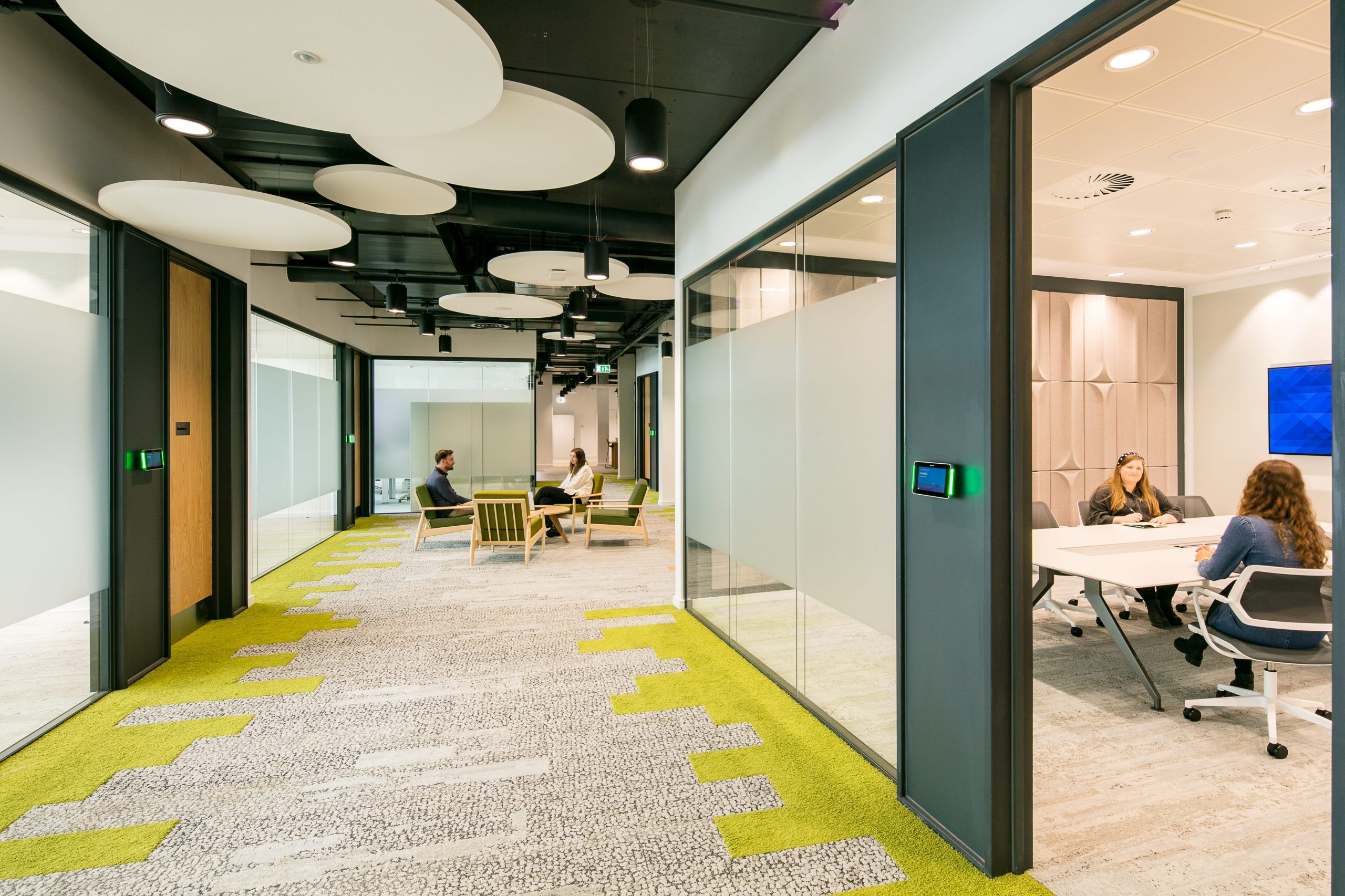 Komfort's glazed partitioning systems have been installed in the fit out of Sage's new offices in Newcastle to support the fast growth of the business.
Background & Building
Sage, a market leader for integrated accounting, payroll and payment systems, has recently redesigned their new HQ offices located in the outskirts of Newcastle Upon Tyne. Working closely with international design practice Ryder Architecture, Komfort supported the design of the internal frameless glazed partitioning systems installed throughout to help create a functional and beautiful space.
Sage wanted to invest in their people and, therefore their offices. In doing so, they wanted to move away from a traditional design to a more forward-thinking and adaptable working office that their employees and visitors could enjoy for years to come.
The Brief in Brief
As per the design brief, Sage aimed to replicate the look and feel of their modern French office space here in Newcastle.
Ryder was briefed to create a productive, visionary and contemporary space, using vibrant colours, finishes and biophilic design to inspire creativity and collaboration. Ryder divided the space to accommodate different working tasks throughout the office, encouraging an agile way of working with hot desks, team areas and dedicated meeting rooms.
The use of colour was vital to Sage's design brief for their HQ offices. To reflect Sage's global presence in this space, bold and energising colours and finishes were incorporated to represent the 6 continents they span.
Wellbeing, productivity and privacy were also critical for this design project. Therefore, a high level of acoustics needed to be achieved with high-performing glazed partitioning, soft furnishings and acoustic absorbers installed throughout.
Komfort's Solution
To make the space work for the acoustic and aesthetic requirements, Ryder specified Komfort's frameless partitioning systems.
Komfort's single and double glazed partitioning systems with 25mm deflection were specified by Ryder in all the meeting rooms on multiple floors. Komfort's manufacturing team MIG welded together each of the 90-degree corners to create a unique and bespoke design for this project. This helped install speed and resulted in a seamless and high-end appearance by ensuring no separation once glazed.
In an aluminium frame, our partitioning creates the appearance of frameless glass with our patented bubble joint. Our systems are designed to balance aesthetics, elegance and durability in any working environment and offer market-leading performance.
"Having worked with Komfort on numerous projects we both know what is required of each other to carry out a project of this size and quality. Komfort is a reliable and efficient company with a product to match."  David Medd, Director at Rowan Specialist Interiors Ltd
The end result
This project was finished to the highest standard and encapsulated the design brief seamlessly. A collaborative effort across all parties involved has resulted in a stunning and functional office for Sage, representing its vision and values. We look forward to working with Ryder on future projects.
"This project required high-performing but also design-led products to align to the client requirement. Komfort's offering and expertise allowed us to meet the acoustic requirements without compromising on aesthetics." Emma Weeden, Designer at Ryder