How Office Booths And Pods Can Improve Business Spaces
Office booths and pods offer many businesses a cost-effective, balanced and space-efficient solution to facilitating privacy in open-plan office spaces.
The layout of your office has a huge influence on company culture and employee wellbeing. Therefore, it can also have a direct impact on productivity. Whilst both open-plan offices, cellular and cubicle layouts all have various benefits, it is hybrid office layouts that are proving most advantageous in modern workplaces. A combination of office, meeting and break-out areas is an effective way of making the most of a space, enabling employees to work in more diverse ways. As many professionals need time to work individually, as well as time to work in teams and to communicate via video or phone conferencing, agile spaces have been found to enhance productivity. Having the right space for the right activity increases focus and makes for smoother transitions between tasks. It can also assist employees in moving between the varying aspects of their roles and responsibilities.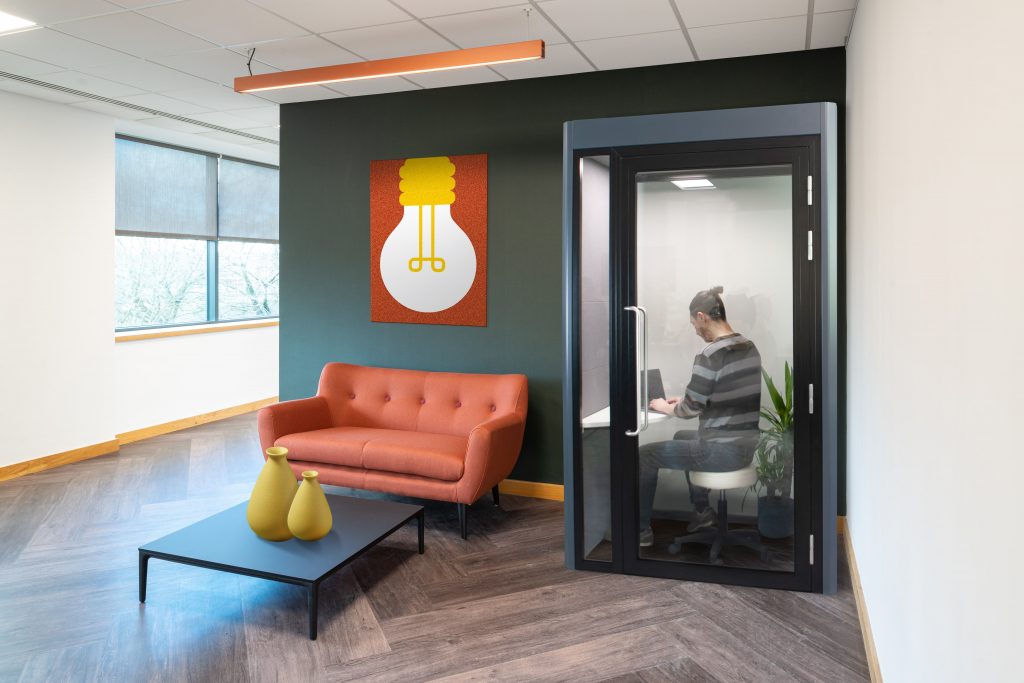 When seeking to design modern offices, inspiration can be taken from coworking spaces. Increasingly popping up to prop up the freelance, self-employed and remote working communities, these spaces know how to implement layouts that work for a wide range of working preferences and requirements. Needing to appeal to various working styles and demands, coworking spaces are usually very creative when it comes to effectively dividing up floor space. With technology ever-changing and adapting the way we work, businesses must adopt more flexible and diverse workplace environments, with areas designed to serve various functions.
Office booths and pods are a popular and highly effective way of achieving this. These may include:
Office Booths
Video Conferencing Booths
Meeting Pods
Quiet Working Areas
Benefits Of Team Office Booths And Pods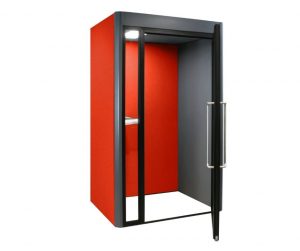 Booths have traditionally been used in restaurants, bars and other social settings because they allow for some privacy without being shut off completely from the activity of the main floor. Hence, they can be an ideal solution for when a meeting room is unnecessary but it may be useful for particular members of staff to work in close contact for a while.
Team office booths typically provide a workspace for 2-4 persons so are particularly good for small teams and for projects that require different team members to come together to work collaboratively. Having booths in offices give employees back control over how they work, meaning they may decide to form sub-teams for specific tasks or cross-department projects, allowing them to work in the way that is most effective for them.
Benefits Of Conference Phone And Video Pods
Whilst there are many benefits to open-plan spaces, break-out areas and hotdesking, there are times when employees need to take calls or even video conference. It's often not beneficial to do so in busy, noisy environments and so some acoustic and visual privacy is needed. However, for one-to-one phone or video meetings, it's not worth taking up a whole boardroom or meeting room space. This is where individual office pods and booths are advantageous.
In modern workplaces, individual office pods and booths are often utilised for phone or zoom calls. They offer a soundproofed, or partially soundproofed, environment allowing you a private area without taking up much floor space. In fact, some contemporary office pods are even modelled on telephone boxes or else adopt other quirky office pod designs.
Another advantage of the conferencing office pod is that you can choose a backdrop that reflects the company brand.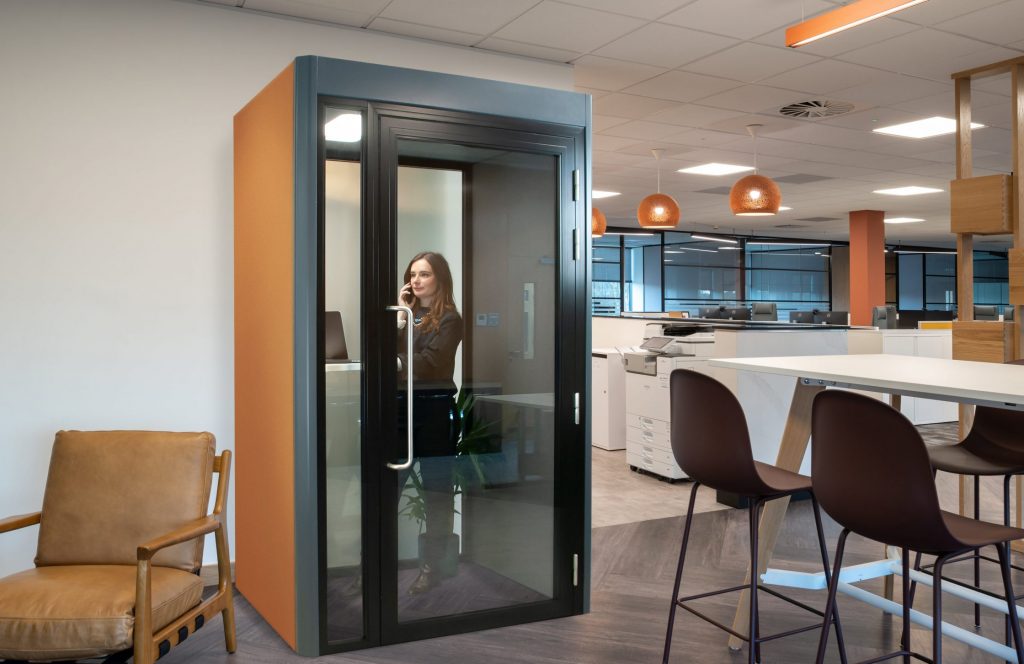 Benefits Of Private Work Pods And Booths
Open-plan offices work very well most of the time, but not always and not for everyone. The energy that arises from activity on the main office floor can be stimulating but it can also be stressful. Particularly for employees who undertake tasks needing high levels of accuracy or focus, such as those who work with numbers or are responsible for drafting important documents.
Private work pods and booths, such as our Solo Kube+ Pods, can provide space for staff to move over to when they need to focus on a particular activity. They may also be used more often by those who find open-plan environments overwhelming. Private, individual work pods make it possible to cater for your environment to suit many different types of working and working styles.
By accommodating talented individuals with varying requirements, employers get the best work from their staff, promoting wellness, creativity and work satisfaction which encourages loyalty and high staff retention.
Komfort offers a wide range of individual and collaborative office booth and pod options, with modern designs to suit all kinds of offices and commercial spaces.