Office Booths and Pods -Komfort Kube
Designed to accommodate individual wellbeing and safety, different working styles, and busy open-plan spaces, Komfort is excited to introduce the Kube and Kube+ range. A series of office pods, office booths, soundproof acoustic booths and pods, and office phone booths for any modern commercial space. This exciting range of booths and pods can be made to almost any specification to be used in offices, commercial spaces, schools, public buildings, and more.
Introducing Kube+ Solo 
Building on the success of our Kube range, combined with our passion, knowledge and specialist understanding of acoustic control we are excited to introduce our Kube+ range. Kube+ offers enhanced acoustic control and performance through intelligent glazing and door design, with the option of single and double glazed options available.
We are launching this range with the Kube+ Solo pod system to offer escapism, a place of quiet and concentration for individuals, achieving acoustics ratings of up to 37 dB (DnT,W).
Our Office Pods and Booths
The Kube pod and booth range helps designers and specifiers meet the current and future demands of the workplace with design flexibility and user experience at the heart. As we move away from completely open-plan spaces, this range offers enclosed acoustic office hubs, pods, and booths to help suit individual and group requirements. From seating pods to booths for private phone calls, office meeting booths, and more, the Kube Pod system is flexible and suitable for a range of uses.
To engage, focus and encourage collaboration between employees, workplaces require quiet and private spaces to be solitary, captivating places to collaborate, and everything in between. Office booths and pods are the perfect solution, they bring private and collaborative spaces into open plan areas allowing break-out groups and private calls and meetings to go on within a larger area. Soundproof office pods and booths can have a huge positive impact on productivity and many other aspects of the modern office.
Soundproof  Office Booths – New Enhanced Acoustic Ratings
Sound insulation and ambient noise levels influence privacy in busy open-plan environments, to help overcome this, we have introduced our Kube+ range to meet the most stringent acoustic demands of the modern workplace. This new pioneering Kube+ range offers enhanced performance through intelligent glazing and door design, with single- and double-glazed options available.
Pods for people, design, acoustics, technology and adaptability
With well-considered and user-led design, Komfort offers a series of pods and booths to help designers create an environment where people want to spend their time.
PEOPLE – Whether for individual, intimate or collaborative use, these pods are designed with the user in mind through air ventilation, technology and comfort.
DESIGN – Our pods and booths have been manufactured to allow for complete design freedom. As standard, there is a choice of 12 fabric colours available for the interior and exterior acoustic lined side panels, and special finishes will be available upon request.
ACOUSTICS – What makes the Kube+ range so unique is the integration of our acoustic doors and glazing, which ensures high acoustic insulation is maintained.
TECHNOLOGY – These systems offer intelligent technology integrations including air circulation fans and LED lighting which are controlled with passive infrared sensors.
ADAPTABILITY – The systems can be assembled and dissembled quickly and used time and time again. The robust structure and materials make it safe and quick to install and easy to relocate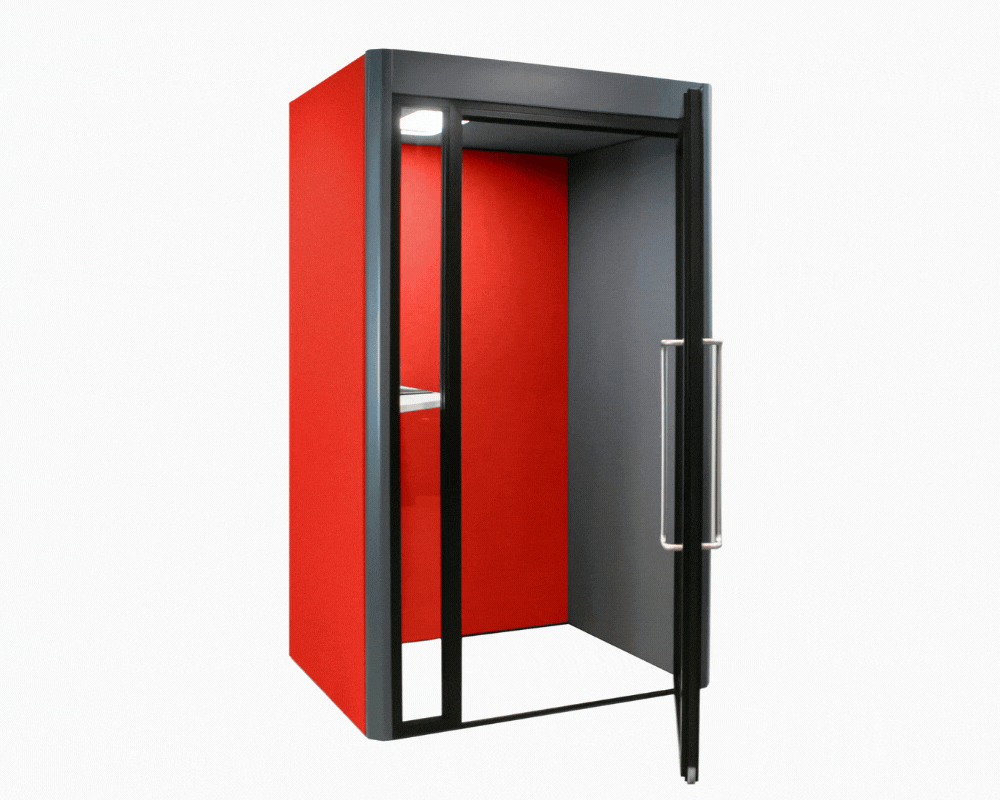 Our Office Pods and Booths Systems
Our UK manufactured, Kube and Kube+ ranges offer pod and booth designs to suit every space. We are able to create virtually any bespoke design to make each system unique to your space. Whether a set of single acoustic phone booths are required to allow people to make private calls, a range of different sized work booths, or custom office pods to fit in with an existing office design, we can help.
Below we have listed our standard offering which can be adapted to meet your individual requirements. This includes Kube Solo pod for one person, Kube Duo an office pod for two people, Kube Unite booth for four-six people, Kube Social Booth for teams, and Kube Phone Booth for private phone and video calls.
Case Studies Using Kube Pods & Booths
Why use office pods and booths?
The world of office design is fast-changing and ever-evolving. With the recent focus on individual wellbeing, aligned with WELL Standards, privacy and quiet spaces need to be a key consideration in any building design. In a recent Oxford Economics article, it was found that millennials hugely value spaces to concentrate and deliver good work. Smart companies are rewriting the rules of open-plan offices with sound control intrinsically linked to overall wellbeing, happiness, productivity and stress levels.
Results from the study demonstrated that "65% of millennials found that blocking out noise increases their productivity, 51% say it reduces error and 46% say it increases focus". But alongside this, it was also found that "71% also said that the ability to interact with co-workers was very important to them". These findings demonstrate the need to design offices around activity-based tasks and flexible individual and collaborative requirements.
Soundproof Office Booths
This is where our bespoke pods and booths come in. We produce acoustic spaces and sound proof booths where noise can be blocked out, thus allowing for the 65% of people to be more productive. We can also create collaborative booths that promote interaction at differing levels. In some cases a booth for 4 people will be ideal, other teams may need larger spaces to work. Our booths and pods fit within an existing and effective office space to bring further productivity and collaborative areas but they can also be designed as an intrinsic part of a new layout in any space.
Contact Our Specification Team
If you have any questions or enquiries regarding the design or specification for our Kube range, please contact our expert team who will be happy to support you.