A Guide to Acoustic Partitioning
Why are acoustics so important?
It is no secret that acoustics play a vital role in the workplace's productivity, usability, and design. Especially with our heightened focus on wellbeing within open-plan offices and the research-based evidence associating this to acoustic ratings.
Here we will introduce acoustics to help reassure designers that expertise and technical support are always on hand.
How is sound measured?
Sound is measured in dB (Rw), which is the weight sound reduction. This measurement is designed to provide a single figure for comparison and calculated using the data from a laboratory test for airborne sound reduction – the higher the dB rating, the better the acoustic performance.
Sound and acoustic ratings need to be tested rigorously and measured accurately. Each partitioning and door system should have an acoustic rating that has been independently certified in a laboratory environment.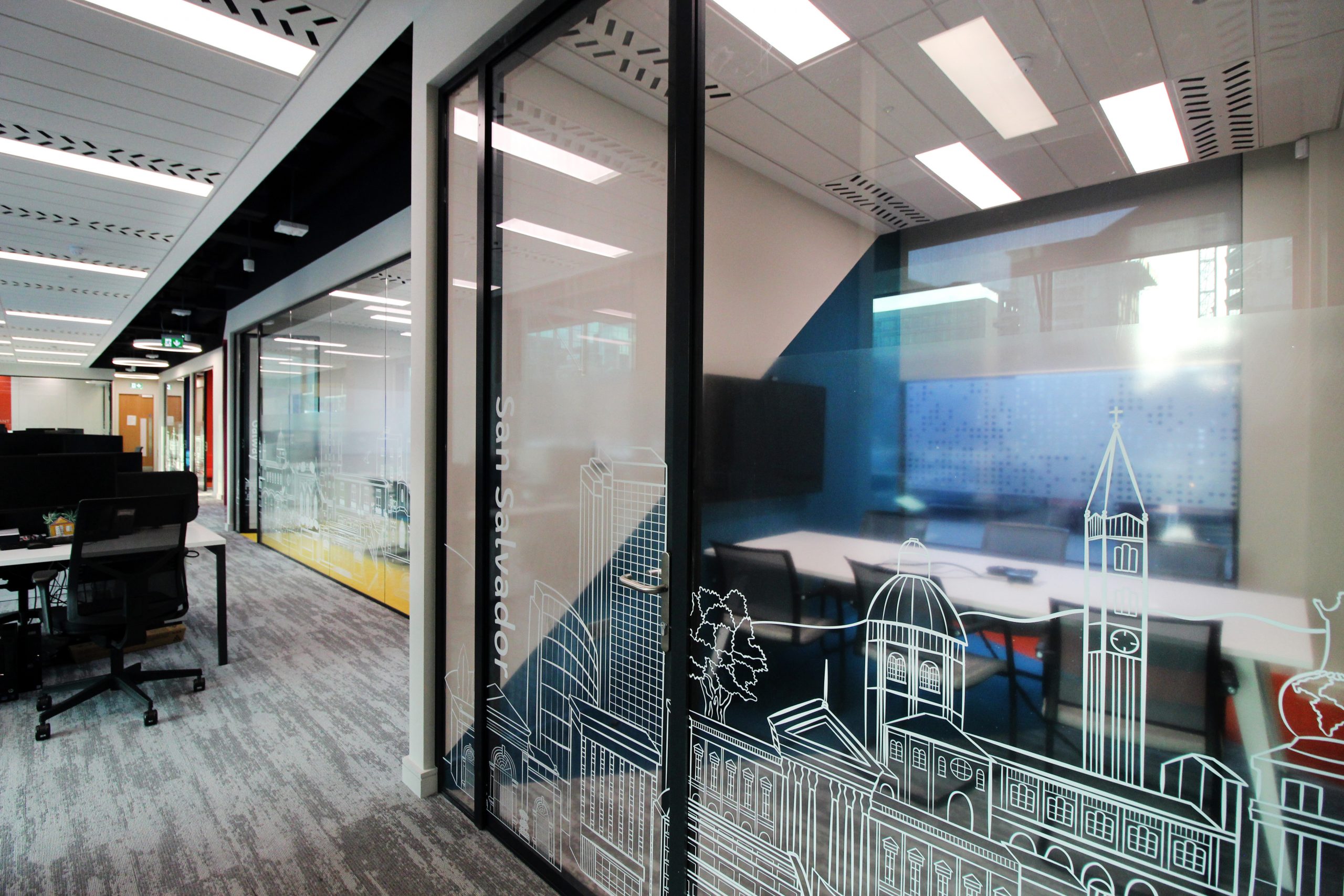 What levels of sound control should you aim for?
As you can see, the opposite demonstrates how approximate sound is represented in decibels (dB). Regarding controlling sound using partitioning, a well-performing single glazed partitioning should achieve between 37-41dB (Rw) and double glazed between 49-54dB (Rw). Acoustic requirements will change depending on individual project requirements.
20dB Normal speech can be easily overheard
25dB Loud speech can be heard clearly
30dB Loud speech can be distinguished under normal conditions
35dB Loud speech can be heard but not distinguished
40dB Loud speech can be heard faintly but not distinguished
49dB Loud speech or shouting can be heard with great difficulty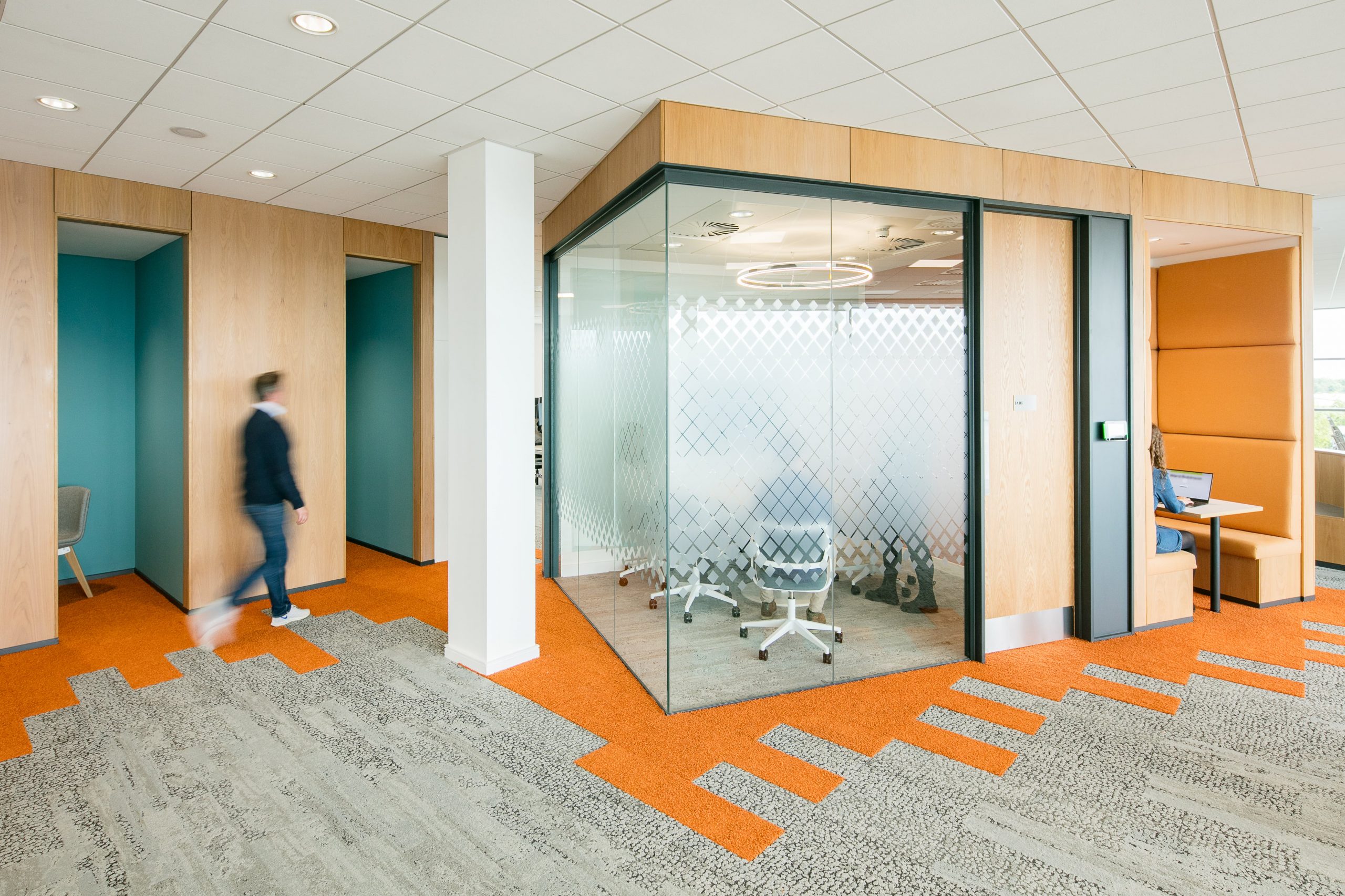 Ways to control sound?
There are three key ways to control sound.
Absorption (using carpet and soft fabrics, for example)
Blocking/sound insulation (glass partitioning, for example)
Cover/masking (using a tv and radio within the workplace, for example)
What is a fabric first approach?
When looking at the fabric of your space or the material, it is important to understand its acoustic benefits. Glass is excellent at insulating sound due to its dense properties, which means that you get a lot of mass in a fairly small thickness. It is also a non-porous material, so it doesn't have any holes where sound can leak through.
Where is controlling sound important?
As the needs of working environments are constantly evolving, the importance of controlling sound is becoming more and more paramount; specifically in places where privacy is essential and in places that serve different functions.
Sound control is unique to each building and establishment; however, we have listed some typical areas where sound control is highly important.
Corridors, atriums and space which connect different levels
Meeting rooms and private offices
Lecture theatres and classrooms

Acoustic vulnerabilities 
It is often the case that when installing partitioning systems, doors are part of the package, especially for meeting rooms and corridors. But what happens to the acoustic performance when you install doors?
Doors can often cause acoustic vulnerabilities when looking at the whole system's performance. This could be due to gaps around the framing, the system itself or how it has been installed.
One way to reduce the impact is to specify doors with an automatic drop-down seal or threshold. These seal any gaps surrounding the door when shut, improving acoustic performance. Also, it is worth mentioning that framed doors provide higher acoustic performance than frameless doors.
Top tips
There are a couple of top tips to take away with you when specifying acoustic systems.
Always ask for test evidence
Ask the manufacturer to provide evidence for acoustic certificates that have been tested in accordance with BS EN ISO 140-3 and that the resulting Rw measurements are derived from BS EN ISO 717/1.
Don't mix and match
Your test evidence may only be for one product, such as glass partitioning, or two products, such as glass partitioning and doors. It is important to remember that you cannot mix and match different products and necessarily expect the same acoustic rating.
This information is the tip of the iceberg for acoustics in the workplace and glass partitioning. You can download our Acoustic E-book for more information or read more about our frameless acoustic systems by clicking the links below.
Acoustic E-Book
Our Acoustic E-book is aimed to support specifiers and designers in feeling confident when specifying acoustic systems. Helping to understand the relevance of acoustics, the level of acoustic performance you require and support in technical specifications.