Glass partitioning for offices – key considerations

Office design is constantly evolving and adapting, but glass partitioning will always serve a purpose within this space. Whether it be for meeting rooms, pods, atriums or even collaborative spaces, they provide a degree of privacy whilst also encouraging visual interaction.
This blog will take you through 3 key considerations for why glass partitioning is an integral aspect of any office design and how it can be uplifted into something striking.
Acoustics
Acoustics have always been considered important, but in the recent months individual wellbeing has seen a much sharper focus. Have you experienced trying to concentrate and get work done in a busy environment? Well if you have, we sympathise with you and if you haven't, be thankful you are surrounded by acoustic solutions! Wellbeing and acoustics are intrinsically linked.
Partitioning is a great way to control acoustics, with different systems and materials creating different levels of control. When using partitioning for acoustic control, it is important to consider the different products used around glass partitioning – think doors and frames. All of these will impact the overall acoustic rating.
If you are looking to really control sound, you should consider double glazed partitioning systems or acoustic glass. An impressive double glazed system can reach acoustic ratings of up to 54dB(Rw) and a single glazed system can reach ratings of up to 41dB(Rw).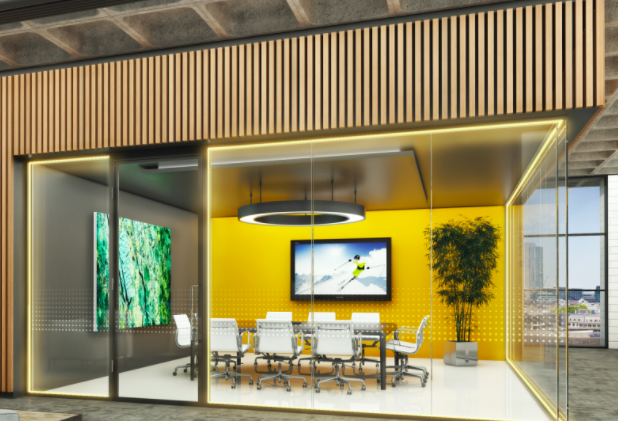 2. Integrate technology
Technology can be seamlessly integrated with glass partitioning, giving a sleek, minimal and beautiful appearance whilst also providing the best user experience. Tech Panels are a great way to integrate room booking devices as well as to control lighting, heating and air conditioning and security. But why not go a step further?
Integrate technology with creativity and inspired design at the forefront. LED lighting can be installed in double glazed partitioning systems to create a 'halo' effect, of any colour and intensity. Why not use it to match corporate branding? Alternatively, LED lighting can also be integrated as a TV screen between the panes of glass. This is ideal for reception areas and public spaces to capture attention and deliver a desired message.
These LED lighting systems, as well as magnetic whiteboard glass partitioning systems and SwitchGlass for privacy can be found in our Koncept Range.
3. Design
A key reason why glass partitioning is so popular is due to its minimal design, its ability to encourage visual interaction and maximise the use of natural daylight. But glass partitioning doesn't have to be minimal, nor do manifestations have to be just for safety.
Create statement design through loud colours and patterns or textures with printed and etched glass and even mesh panels in between partitioning. Mesh is commonly featured in architectural design to add intrigue to a space, as well as a degree of privacy.
Inline with an Art Deco aesthetic, Kross Glaze partitioning can also divide up spaces in impactful ways. Be creative with panels and glazing with reeded and coloured glass to create a Stained Glass effect.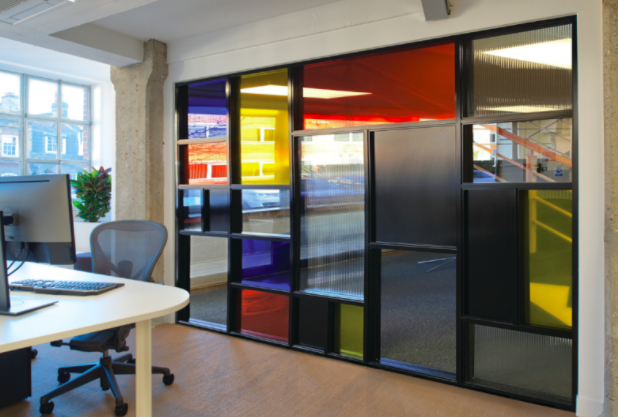 Ultimately, it's all about creating spaces which people can react to. Especially with Gen Z starting to enter the workforce, ordinary office designs won't suffice. And whilst glass partitioning will always serve its functional purpose, it needs to become a feature of the design, something a designer can be proud of. Here at Komfort, transforming partitioning into something beautiful whilst delivering the highest level of performance is something we are always focused on.