Komfort's Digital Transformation
Due to political, social, technological and environmental requirements, building designs are becoming more complex. Consequently, the need to change how construction is managed, delivered and operated also has to evolve. 
Over the years, the construction industry has been moving away from the traditional ways of working and towards a digital future for information management. After all, project designs or redesigns should take place on the computer screen, not on the construction site. 
The ISO 19650 standard is an international standard for managing information over the whole lifecycle of a built asset using building information modelling (BIM). It contains all the same principles and high-level requirements as UK BIM Framework and is closely aligned with the current UK 1192 standards. There is increasing demand among principal contractors and architects for BS EN ISO 19650 certification and the perceptions around BIM are changing. 
Komfort is excited to champion and embrace this new era of construction management as one of the first manufacturers to embark on the journey with the BSi, the creator of the standard, to achieve the BS EN ISO 19650 standard in summer.

The need for change
 The construction planning process is considered the most substantial part of construction management. Yet, according to the NBS Report 2020 (www.thenbs.com/ knowledge/national-bim-report-2020), many companies continue to work using traditional methods of managing and creating information and appear reluctant to change. 
While construction companies continue to make themselves aware of BIM and its capabilities, the NBS report suggests that the main reasons for resisting change include: 
• low client demand;
• lack of in-house expertise;
• insufficient training; and
• cost. 
The MacLeamy Curve (left) illustrates the escalating cost of design modifications as a project team progresses in the design process. Clearly, the cost of any changes can be minimised by signing off the design prior to the development of construction documentation and the procurement of goods and services. Any changes to the design during the creation of construction documents and procurement will add additional costs and time to the project. 
It is important to note that when using traditional methods of working, the information created may not be safe and secure. Electronic systems and memory devices on computers can be used for storing and transferring information, but this can become corrupted or even lost. Companies that continue to work using outdated technology risk losing out on the benefits that BIM can offer and in the complex and fast-paced world of construction, we need a more flexible, digital solution to manage and control secure information.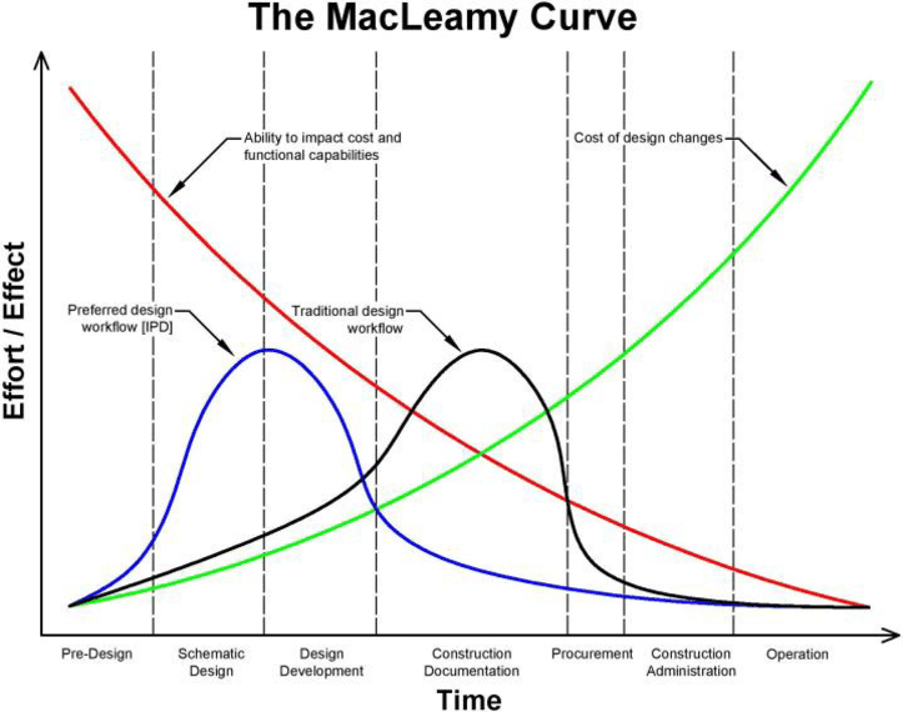 Komfort working to an efficient model
BIM is the management of information through the whole lifecycle of a built asset, from initial design all the way through to construction, maintaining and finally de-commissioning, through the use of digital modelling. It's all about collaboration between engineers, owners, architects and contractors in a three dimensional, virtual construction environment (common data environment), and it shares information across these disciplines. 
BIM allows design and construction teams to communicate about design and coordinate information across different levels that has been unseen before. This information remains with the project, from before beginning construction, right throughout its lifetime. It also helps to analyse any potential impacts. 
For Komfort, the BIM and BS EN ISO 19650 benefits include: 
• 3D modelling to provide visualisation and simulation;
• collaborative working results in a reduction in time and costs for Komfort and its clients;
• faster release of information around tenders and designs;
• collaborative working improves the quality of the finished project;
• new technology hosts all information in one location;
• all project information remains accurate, up-to-date and is available to all project stakeholders; and
• an improved customer experience. 
The collaborative approach 
Moving into a digital world, effective collaborative working is essential if design and construction teams are to cover the entire lifecycle of a construction product, including all its maintenance and decommissioning. 
Traditionally, collaboration has been limited as forms of contracts have been specific in the roles and responsibilities of stakeholders within the project and, therefore, contractors risk being blamed for events outside of their works, even if the works are indirectly linked. 
Four factors that drive collaborative behaviour are: 
• trust and respect;
• openness and clear communication;
• common goals and new ways of working; and
• leadership and interpersonal skills – including the awareness and needs of other professionals. 
Through collaborative working, everyone involved in a project can easily and speedily share ideas, perceptions and interpretations. This was seen on a recent project where Komfort collaborated in the design of curtain walling with the architect and principal contractors. The results ensured that the preceding and follow-on trades were able to complete their works without clashing. There was no snagging identified upon completion, quality was to the highest standard and no additional costs or delays to the programme were incurred. 
Without collaborative working, we will continue to waste time and money by having to make corrections to unstructured information and incorrect management of information by untrained personnel. 
The BS EN ISO 19650 standard requires manufacturers to produce information through a collaborative way of working. To accomplish this, Komfort has introduced new processes and technology and changed their teams' ways of working. 
Teams need to fully realise that a forward-thinking mindset is just as important as the technologies and processes behind it. By adopting these changes, Komfort's efficiencies provide a greater customer experience by meeting project objectives, on time, on programme and to budget. 
Let's adapt and evolve
The BS EN ISO 19650 standard will change the way we move and manage information. Being an early adopter allows Komfort to align with the future of construction by encouraging collaboration, trust, quality of information and getting it right the first time. 
There is a rapidly increasing demand for this digital transformation and it will involve the whole supply chain. These processes and implementations made across the business will streamline the tender process and ensure a smooth transition with information in one proactive environment.