From Kickstart to full-time employment – meet Reece!
We would like to introduce you all to Reece Cartwright. Reece has joined us fresh from A-levels and brings with him fresh energy and drive. As part of his onboarding, we have asked Reece a few questions to get to know him a little better and understand what he brings to the Komfort team.
Q – So Reece, what is your professional background and experience within the industry?
Reece: This was my first full-time job in the industry after completing my A-Levels in the summer of 2020 in Law, Criminology and Business after receiving my GCSEs at secondary school in 2018. With the pandemic in full swing when I finished school, I had decided to get some real work experience in an industry that interested me.
At a job fair, I came across the Kickstart scheme and decided to see what was available. I joined Komfort through the kickstart scheme in June 2021 and became a full-time colleague in December 2021.
Q – What made you want to work with Komfort?
Reece: The Birmingham office is in an excellent location for me and following my interview, I felt reassured that I could progress and build a career with the business. Especially after researching the company and seeing some of the impressive projects they had completed nationally in offices, universities, and other people-centric spaces.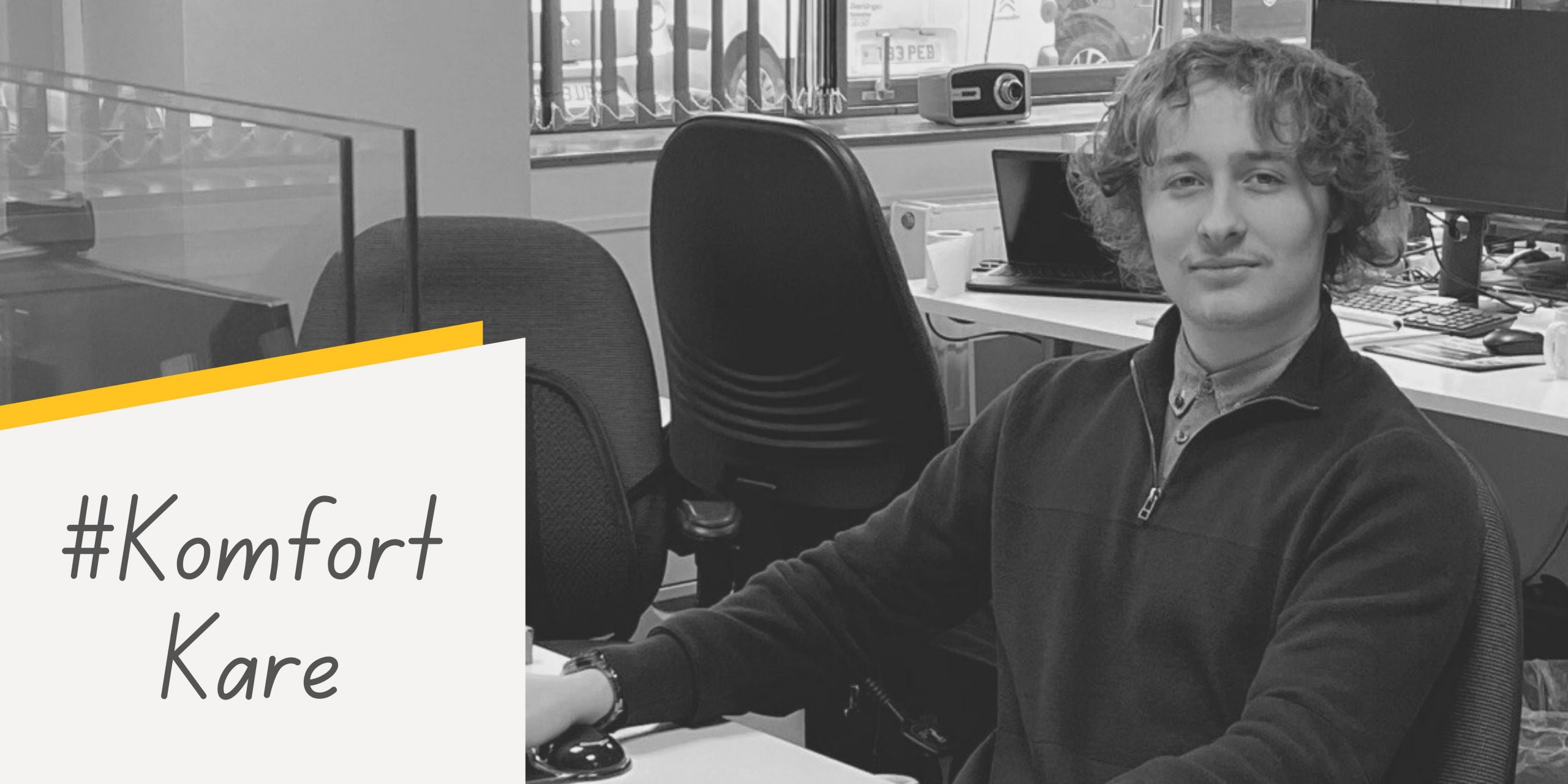 Q – What are your current roles and responsibilities at Komfort? 
Reece: My job title is Manufacturing Systems Support. My role contributes and enhances Komfort's IT/systems department to ensure it provides the highest levels of efficiency for the business. I am currently looking at the Bill of Materials (BOMs) and repricing current and old systems due to the constant changing prices of labour rates, timings and rising raw material prices.
Q – What plans do you have to achieve here at Komfort? How do you see yourself moving forward and how do you feel you can add value?
Reece: I wanted to work in manufacturing to be a part of the system production process, from the initial stages of designs to the creation of the product and then to the customer. My IT manufacturing role assists with the manufacturing process, and I want to add further value to the business through experience and product knowledge. I hope to attend some external courses to expand my knowledge base, which will in turn further develop the IT department and wider business.
I am working within a growing department with a diverse skillset, supported by Laura and James, who have extensive experience and Daniel and myself as the newer members of the department.
Q – Can you name one of your greatest career achievements so far?
Reece: I am very early on in my career, but the most significant achievement is getting a full-time contract at Komfort Partitioning due to the Kickstart placement. It is a great feeling that the company saw my potential and decided to grant me a full-time placement.
Q – Could you tell us a bit about your personality, hobbies, etc?
Reece: I am a confident and likeable young man with great pride in my work. I believe Komfort provides a workplace that allows me to progress as a person and voice my opinion, which is great as I believe I have a fresh outlook when it comes to the workplace, adding value and providing a new perspective.
I enjoy riding my motorbike and playing the guitar (self-taught in lockdown) in my spare time, and I also recently passed my driving test and am looking for a car.
Thank you very much for your time Reece! It was great to learn a little more about you and we look forward to continuing to do so. On behalf of all of Komfort, it is a pleasure to have you within our team with a fresh perspective. Best of luck in the new role!