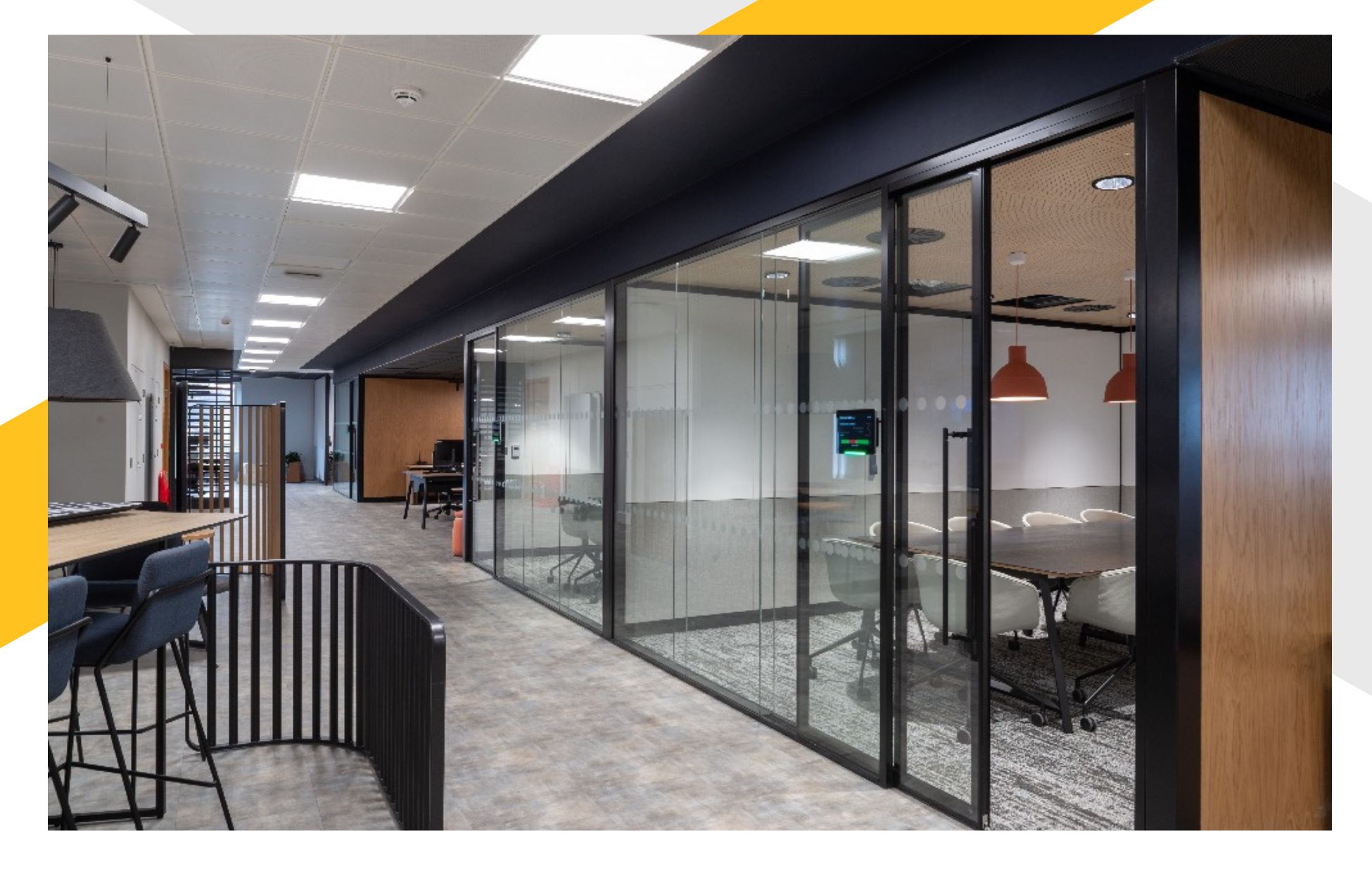 The Domestic and General Project
Background & Building
Domestic and General is the UK's leading trusted provider of aftercare for domestic appliances. To create a forward-thinking and adaptable workspace, Domestic and General has recently had a full refurbishment of their existing HQ office, spanning four floors within a multi-tenanted building located in Wimbledon, London.
The Brief in Brief
In response to the pandemic, Domestic and General have embraced the hybrid working approach between remote and office-based working to prioritise wellbeing, collaboration and flexibility.
To encourage this working model, it was essential for Domestic and General to provide an inclusive space that supports colleagues both physically in the office and those remote working.
Following this design brief, SpaceInvader created work bays for digital teams to engage with meeting facilities and technologies. This included whiteboard walls, conferencing systems and AV solutions which successfully fostered collaboration both internally and externally.
With an increased focus on wellbeing, acoustics also played an important role in the success of the scheme for both comfort and privacy. Considerations such as these have positioned Domestic and General as an attractive employer and also provided a compelling reason for their employees to return to the office.
Komfort's Solution
With interchangeable panels available in various finishes and impressive acoustic ratings, Komfort Kreate was installed to help achieve this brief. This bi-block relocatable system can be demounted and fully relocated later in life to serve another purpose or design layout, offering sustainable and cost benefits to the end user. For this particular scheme, Komfort Kreate was installed alongside elements of bespoke joinery with screens within the squad bays to give a unique appearance.
Avoiding sound transference via the ceilings on the squad bays was essential to meet the acoustic requirements. The Komfort Kreate system was able to accommodate heights of 2.4m to conceal the services above by including a lowered bulkhead that provided separation in the void above to the structural soffit to provide control acoustic and manage performance.
Komfort Kreate, paired with Komfort's Sonik Sliding acoustic double glazed doors, offer the aesthetic appearance and the acoustic performance required for the scheme and were installed across the digital team squad bays and meeting pods.
The end result
Domestic and General were delighted with the end result and through investment in good collaboration technologies and work settings, their offices now serve their employees for better wellbeing, productivity and flexibility for years to come.
"This project was quite a challenge due to being designed and delivered throughout the Covid 19 pandemic as well as being installed to a tight programme and with the current constraints of the supply chain environment. Despite this the quality and visual look of the finished product is very impressive and has been well received by the client and everyone involved in the project." Paul Sparrow, Project Manager – Division One.
Domestic and General Gallery