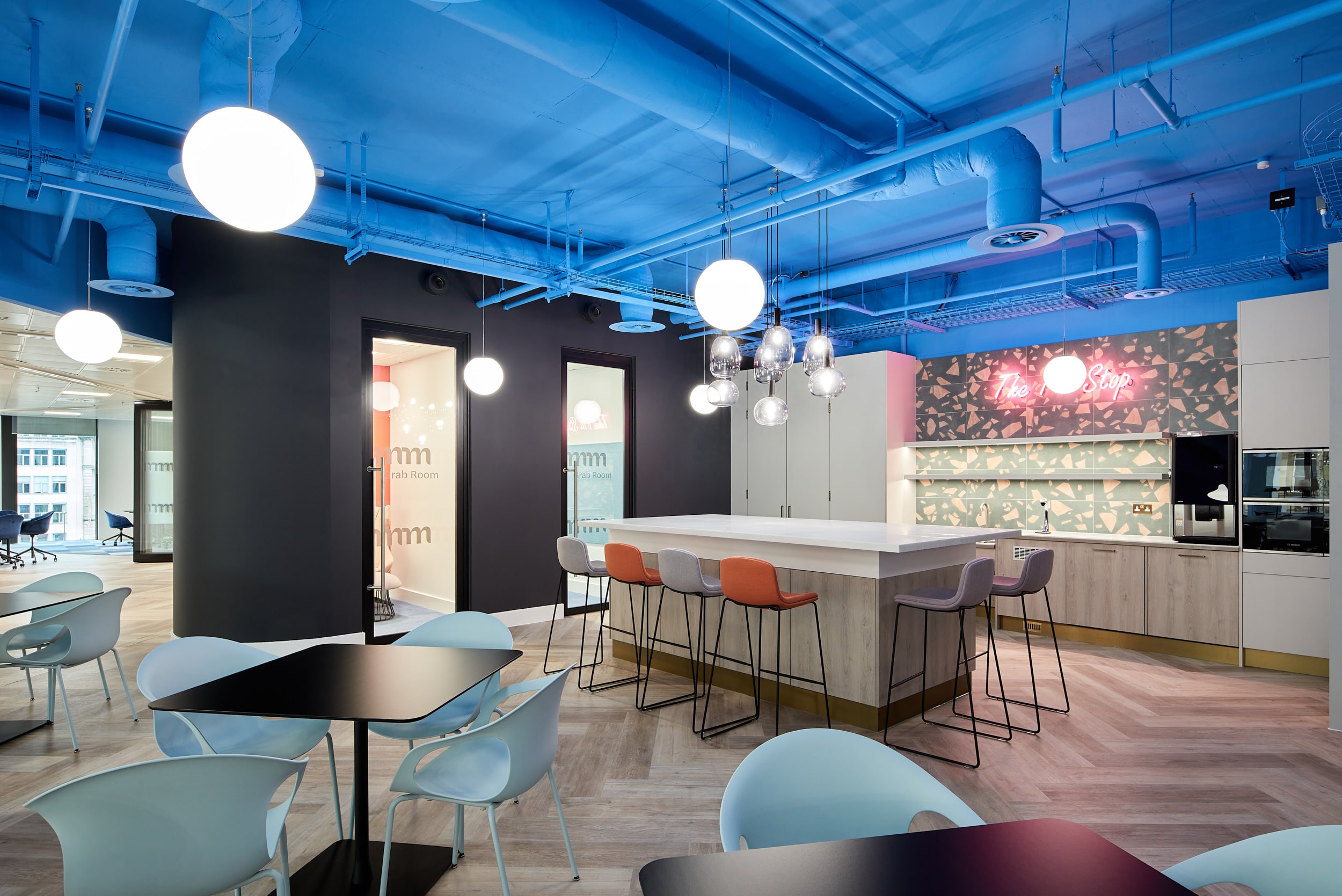 Komfort's partitioning and door systems are installed in Mazars' visionary new offices in the centre of Birmingham to help create a high-performing and agile workspace.
The Building and Background
Mazars, the international accounting and advisory firm, has recently occupied its new offices in the heart of the buoyant Birmingham Paradise development.
Mazars wanted to align their new offices with the new modern way of working, supporting their growth plans and reflecting their premium brand name.
The Brief in Brief
As the designers, Overbury was briefed to create a people-centric space, incorporating agile, flexible and activity-based working spaces.
Within the space of the last 18 months, we have all learned a lot about how offices need to work better for us all and this is a prime example. Overbury created the design to encourage flow of movement throughout the space, inspiring impromptu meetings, casual conversations and hot desking. This modern way of working brings the aspect of fun, relaxation, collaboration and productivity into one central space.
With its contemporary design, high spec installations and comforting furnishing, Overbury designed the office around how people intend to use the space.
Komfort's Solution
To design with people at the heart, acoustics and aesthetics played a key role in the system specification for this project. Helping to achieve the forward-thinking brief, Komfort's Polar 54 slimline double glazed partitioning, acoustic Sonik doors and bespoke pivot doors were installed.
Polar 54 was specified as part of the design due it to its slimline frame and acoustic ratings of up to 47dB (Rw); providing a flexible design solution that doesn't compromise on performance. The minimal trackwork helps to create the impression of space and a seamless and high-end finish.
To complement the design and performance of the Polar 54 system, Komfort's Sonik doors were installed. The Sonik door range has been designed for ease of installation and integration with all of Komfort's partitioning systems. This system also ensures high acoustic insulation is maintained through the use of an automatic drop-down seal.
Aligning to the design brief of creating an innovative and memorable space, Komfort designed and installed an oversized pivot door. When the pivot door is pushed to, it creates the appearance of a glass wall dividing the dedicated space. This statement feature demonstrates Komfort's capabilities for purpose-built systems which are tailored to meet design and performance requirements.
The end result
The blend of performance, aesthetics and flexibility all come together to make the space successful for its occupants. It was a great pleasure to be involved in this inspiring design and have our systems installed, working with Overbury and seeing their stunning design come to life.
Specification Support
If you have any questions regarding design or specification support for our partitioning and door systems, please contact our expert team who will be happy to support you.