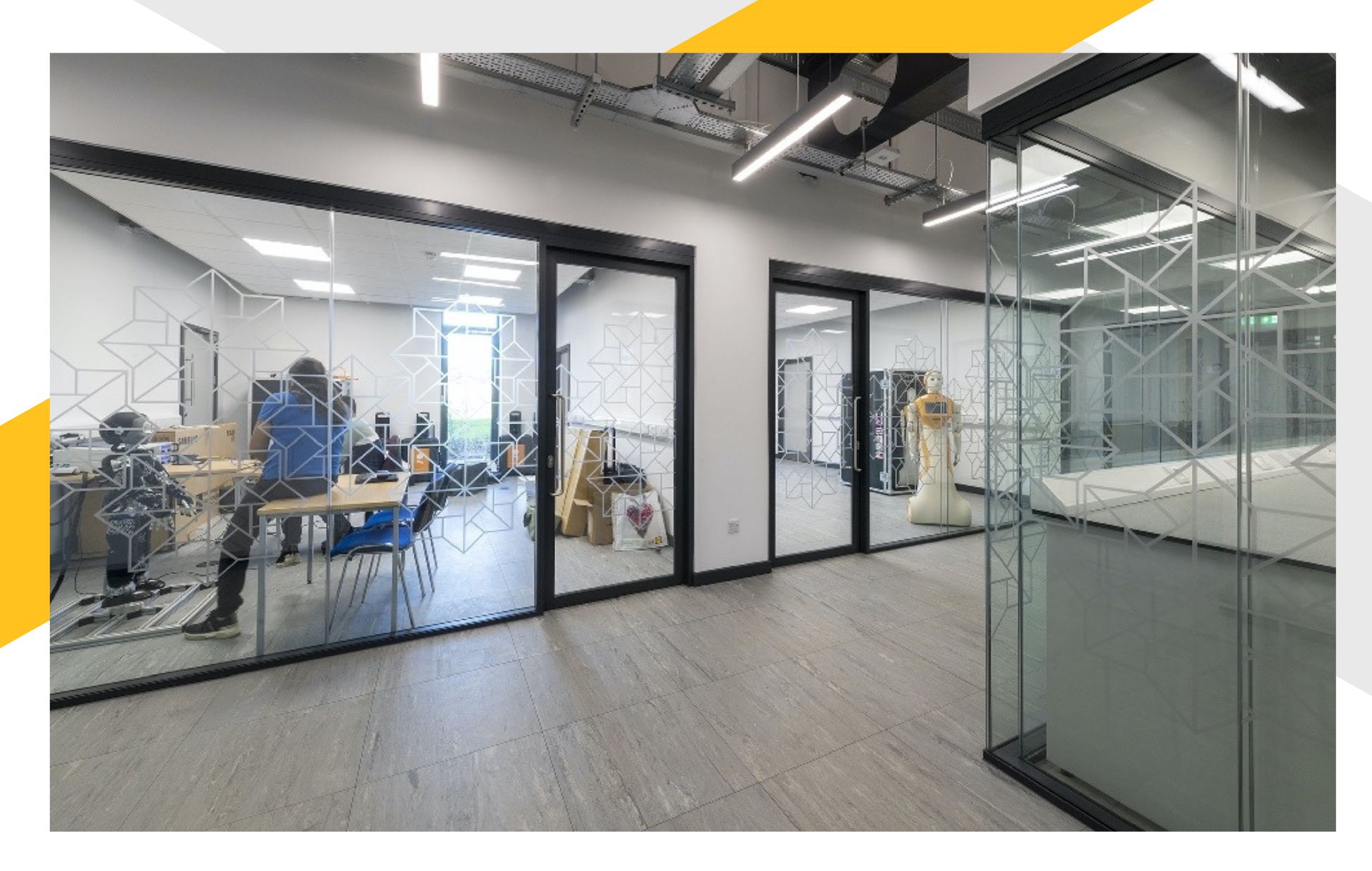 The National Robotarium Project
Background & Building
The National Robotarium was officially opened on 28th September 2022. Located on Heriot-Watt University's Edinburgh campus and in partnership with the University of Edinburgh, it is the largest and most advanced applied research facility for robotics and artificial intelligence (AI) in the UK, creating an innovation hub for the practical application of robotics and autonomous systems.
The Robotarium brings together engineers, scientists, researchers, and entrepreneurs who are driving forward advances in artificial intelligence technologies such as machine learning, deep learning, computer vision, natural language processing and robotic process.
The Brief in Brief
Working closely with the contractor, Roberston Construction Group, Komfort Partitioning quickly established that the project would demand a multi-product and multi-performance approach. Michael Laird Architects in Edinburgh created a design that was focused on their own internal values, and a building which could support real innovation and collaboration.
The building form is a good example of this being a high-performance envelope which incorporates a naturally ventilated, multi-purpose double wall to the main façade. Inside, the design criteria is focused on arranging and dividing a variety of flexible spaces for specialist research and work around a full height, multi-functional forum space that is used as a social space, for collaborative working, knowledge sharing, and events.
Komfort's Solution
This project had great complexity which demanded from Komfort a plethora of bespoke products and creative solutions to maintain the integrity of the building design. The edge glazing installation in the full height atrium was achieved with the use of a spider crane, this is where the atria forum is topped by a series of six triangular rooflights that allow plenty of natural daylight to penetrate the building.
This complexity also flowed through to detailed contracted responsibilities. This was a busy multi-trade major project with mixed product and performance requirements, including contracting prerequisites such the Structural Engineers Register (SER).
The end result

Komfort worked very closely with Robertson Construction Group to ensure the partitioning was designed to be as innovative as the building and specifically the research taking place within its walls. Komfort also aligned to the projects work ethic and commitment to sustainability and the wellbeing of its staff and students, ensuring the facility was equipped with state-of-the-art technology and was energy efficient.
"Komfort understood the demands of the project from the get-go. The focus on sustainable solutions and state of the art design meant we worked in partnership to ensure solutions were found and delivery was prompt. Komfort ensured the glazed partitioning element of the project was on time and on budget" Richard Cairns, Senior Project Manager – Robertson Construction Central Scotland East.