Space Works – A Podcast Series
Over the last two years, the built environment has seen the most significant systematic shift in how we design, interact with and utilise workspaces. It is without a doubt a fascinating time for design, manufacturing, procurement, and construction.
The rapidly changing built environment is already influencing how manufacturers and designers maintain a momentum to meet the latest industry trends and new expectations; with a focus on the safeguarding of our workplaces to demonstrate a clear return on investment, both people and monetary. Recent considerations include flexibility, product optimisation, adaptability, designing for the neurodiverse, wellbeing, health and sustainability.
At Komfort Partitioning, our research, product development and design team collaborate with industry leaders to get the best insights and opportunities for innovation moving forward to encourage thriving and human-centric spaces.
To help encourage this shared knowledge and to inspire thought-provoking conversations, Komfort is excited to launch its brand-new podcast entitled Space Works. This podcast involves research and development discussions and open forum debates with industry experts on the new era of the built environment, each series with a specific focus.
In the most recent podcast episode, Ana Rita Martins from Woodalls, highlighted how "The key to future spaces is understanding the clear link between the building performance and how that interacts with human behaviour, and therefore business performance."
The Space Works podcast has been recorded over recent months and is now available on Apple, Amazon and Spotify Podcasts. Click here.
The first series is focused on adaptable workspaces and how we can better design and challenge boundaries to benefit the user and business needs. Andrew Parkin leads the conversation – Global Head of Acoustics at Cundall, joined by Aqsa Rafiq – Project Specification Manager at Komfort, Ana Rita Martins – Sustainability Lead at Woodalls Design, and Dominic Dugan – Creative Director at Oktra.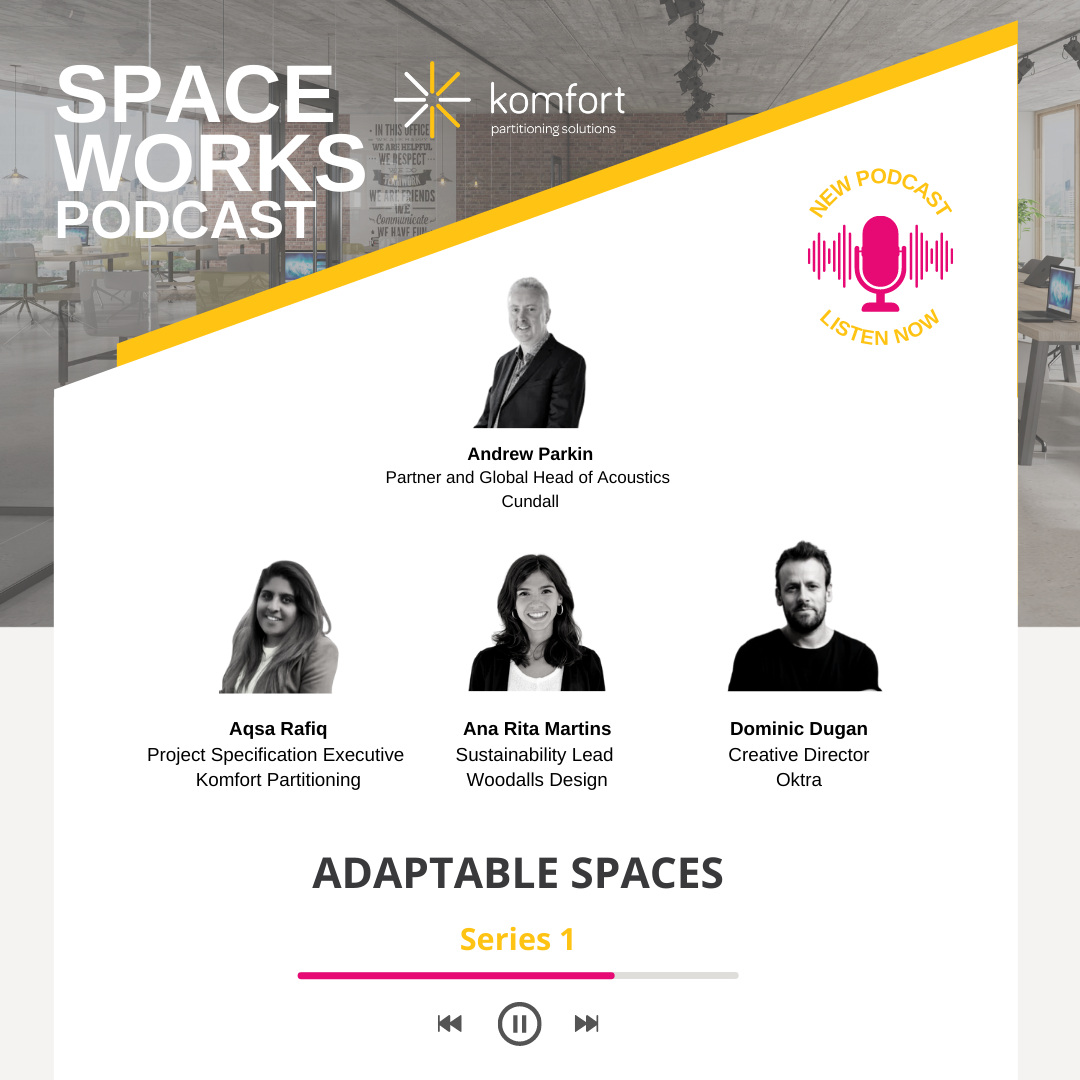 The audio shares some interesting thoughts on evidence-based design, the detriment of over-engineered offices, the importance of focusing our efforts on the user's needs rather than wants, wellbeing, the matter of choice in workplaces and bravery in design.
Aqsa shared her insight into how "COVID has pushed innovation. The change has been for the better; it has pushed designers, architects and employers to rethink their strategy in how they're designing workspaces and how they utilise the environment."
Komfort is excited to be at the forefront of this new wave of design and development and is committed to integrating adaptable, user-friendly, sustainable and technology-enabled systems to help drive a better built environment.
For more information visit here.